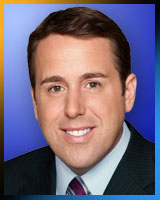 Ben Bradley joined Chicago's No. 1 station for news as a general assignment reporter in October of 2002 and in September of 2010 was promoted to Sunday morning anchor.

ABC 7 reporting trips have taken Bradley to China, Brazil, the Caribbean and nearly a dozen states. In early 2008, Bradley travelled through Iowa and New Hampshire covering the Presidential race. He has also reported from the Pan-American Games in Rio de Janeiro and the Summer Olympics in Beijing while covering Chicago's bid for the 2016 Summer Olympics.

Previously, Bradley worked as a weekend anchor and general assignment reporter for CLTV, Chicago's 24-hour news channel (1998-2002). While at CLTV, he wrote, produced and hosted several political specials, and also created a documentary on the closing of Chicago's Cook County Hospital. Before that, he was a news reporter and morning weather anchor at WCBD-TV in Charleston, S.C. (1997).

Bradley began his broadcasting career in Columbia, Mo., where he worked from 1994-97. He gained television experience at Columbia's KOMU-TV, where he served as a newscast producer, weather anchor, photographer, and reporter. At the same time, he worked as a program host, reporter and news anchor for KFRU-AM, Columbia's news/talk radio station.

Since joining ABC 7, Bradley's work has been recognized with four Emmy awards for breaking news coverage.

Bradley is a past president of the Chicago Headline Club, which is the nation's largest chapter of the Society of Professional Journalists.

Bradley is a Chicago native and attended Homewood-Flossmoor High School. He earned his Bachelor of Journalism degree from the University of Missouri-Columbia.

When not working, Bradley enjoys doing just about anything outdoors: from skiing in the winter to hiking and biking in the summer. He has also been fortunate enough to visit six of the seven continents of the world. Travels have taken him to Alaska, Europe, South Africa, Beijing, Hong Kong, Australia and Chile to name a few. Bradley is married with three sons.

---