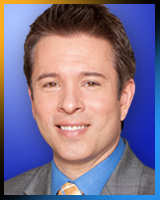 Rafer Weigel joined ABC 7 Chicago as the weekend sports anchor and sports reporter on March 21, 2011.

Weigel is the son of the late Tim Weigel, who was a popular Chicago sportscaster at ABC 7 for 17 years.

When it was announced that Rafer Weigel was also to become a part of the ABC 7 family, the station's News Director Jennifer Graves said, "Rafer is a talented broadcaster who has worked hard to earn his stripes. He loves this city and has never lost his passion for following Chicago sports teams. His father is an important part of ABC 7's sports legacy and we are thrilled that another Weigel will again be working the sports beat at our station."

Previously, Weigel served as a sports anchor for HLN's morning news program. He has been handling sports duties for the cable network since 2008.

Prior to that, he worked as a general assignment reporter at KOVR-TV, the CBS station in Sacramento, California, from 2006 to 2008. He was a general assignment and feature reporter at KUSI-TV, an independent station in San Diego from 2005-2006.

Prior to his work in broadcast and cable television, Weigel honed his sports reporting skill at two major newspapers. He was a reporter and copy editor at the Los Angeles Times where he covered high school sports for four years. He also reported on high school sports for the Chicago Sun-Times.

Before pursuing a career in journalism, Weigel worked as an actor appearing in various Chicago theatre productions. He later moved to Hollywood where he landed several TV and movie roles.

Weigel was raised in Evanston, Illinois. He is a graduate of Evanston Township High School and the University of Illinois at Champaign.

---
Archive
Juwan Howard started his career with the Bullets. Now he's trying to keep kids from being killed by them.