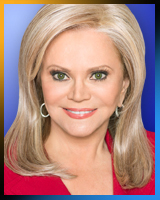 Emmy Award winning journalist, Theresa Gutierrez has been a general assignment reporter for ABC 7 News since June 1986. In addition to her reporting duties, Gutierrez serves as host of " Beat," a series of locally produced half-hour specials featuring prominent Hispanics who are making positive strides in the community.
Gutierrez was one of the first Hispanic women to break into television journalism. Guttierez along with Barbara Walters, Connie Chung, Christine Amanpour, and Jane Pauly were featured on the cover of the educational book, "Women who broke barriers: The new face of TV news." The book has been distributed to schools throughout the world.

Gutierrez began her media career in 1971 at NBC 5 as a production assistant and in 1972 joined ABC 7 in the same position. For 25 years Gutierrez has hosted and produced a number of television talk shows including "The Feminine Franchise," a feminist program dealing with topics of concern to women, "Weekend Edition," "Weekend," and "Sunday in Chicago with Theresa Gutierrez."

Concurrent with her duties at ABC 7, in January 1973, Gutierrez became the moderator of "Ms. Understood," a show on WLS Radio, which dealt with women's issues. In April 1973, she became moderator of "Hispano," on WLS Radio, focusing on social and economic issues in the Chicago Hispanic community.

Gutierrez continues to add awards and accomplishments to an already lengthy list of honors she has received over the years. These include the 2005 Anti-Defamation League's Women of Achievement Award for her work to combat anti-Semitism and other forms of prejudice; the Glamour Magazine Tesoro Award; Northeastern Illinois University President's Meritorious Award; Robert Morris College Alumni Association Award for her contribution to higher education; the Latino Coalition on the Media Triunfo Achievement Award; the Sor Juana Lifetime Award, given by the Mexican Fine Arts Museum; the Woman of the Year Award, from the Indiana Hispanic Chamber of Commerce; as well as numerous awards for her work with children and women.

In 1999, Gutierrez was recognized by Today's Chicago Woman Magazine as one of the 100 Women "Making A Difference." In addition, Hispanic USA Magazine selected Gutierrez as one of six outstanding broadcasters in the country. Gutierrez is actively involved in the community serving on the Boards of the Chicago Sister Cities International Program; Access Living; On Our Own, Hear Our Cries, an organization dealing with victims of domestic violence; the Vernon Jarrett Educational Foundation; and Kids International Surgical Services (K.I.S.S.). In 1999, K.I.S.S. raised $48,000 to bring Baby Santiago from Mexico to have brain surgery, which was successful. Gutierrez was recently named "Woman of the Year" by the Anti-Defamation League and was inducted into the National Television Academy Silver Circle Hall of Fame for her years of contribution to television. Gutierrez will also be featured in a book called "Feminists Who Changed the Face of America."

Gutierrez received her Bachelor of Arts degree from Indiana University in Bloomington, Indiana. She resides in the Chicago area.

---