NEW YORK --
This week's "Bachelor in Paradise" picked up with Michelle Money crying and being so grateful that Chris gave her his rose just as he left so that she could still try to have a shot at love. She's hoping a hot guy she's interested in arrives at some point. A card was waiting in the girls' house for Robert. It read "Choose a woman to set sail with tomorrow." He asked Sarah if she would go with him and she was very excited! Michelle was crying in a room and Graham came in to comfort her. She was upset that she didn't get asked on the date. He told her there are so many people on the planet that want to ask her out.
Then, Michelle did Sarah's hair for her date with Robert despite her feelings for him. She said that it was hard to do that, but she wanted to have her braid look amazing. She is a really amazing hair stylist! Hopefully a hot guy will show up at some point for poor Michelle!
Sarah and Robert went for a ride on a sailboat where they hung out and chatted about the game. They said that whoever shows up at this point in the show doesn't have much of a chance, but I don't think that's necessarily true. Robert basically said that he forgot all about Michelle and it's a little awkward, but oh well! Sarah is really excited about the prospect of finding love with Robert.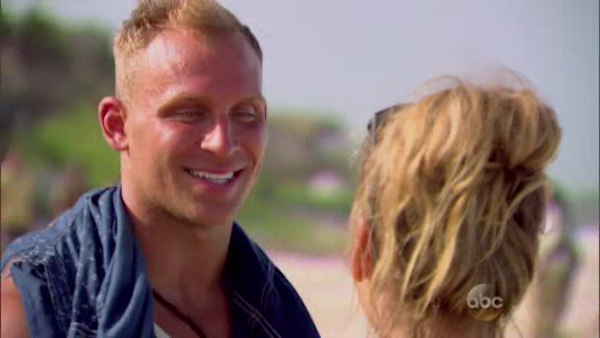 Meantime Clare and Zack are heating up, but Cody gets a date card and invites her on a date. She turns him down because she's too into Zack. He asks her advice on who he should ask and doesn't really get an answer, but told her to think about it some more. Zack was kind of surprised that Clare turned the date down and told her that he's not the jealous type and she could have gone if she wanted to. Uh-oh, I smell trouble in paradise for these two!
Clare told him that she wasn't sure about what he wanted. Zack said he wanted to maybe explore going out with other girls, but then kind of took that statement back. Clare said that she couldn't believe he was willing to give up on her and let her walk away or give someone else the chance at getting her. If that's the case clearly he's not that interested. He went off to think by himself for a bit.
Clare spoke to Cody again and told him that she couldn't accept the date card. She gave a long speech to him about wanting to see where things go with Zack. He told her he's always around if she changes her mind. Cody says that he has no one that he really wants to ask out so he gives the date card to Marcus to take out Lacy! That is the sweetest thing. He said that he became really good friends with Marcus on "The Bachelorette" and he's happy to see his buddy so happy.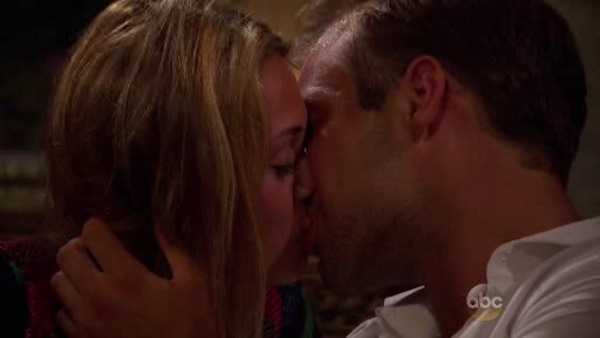 Marcus and Lacy go on a date into a little village where they have a romantic private dinner for two. He told Lacy that he really cares about her and he doesn't want to scare her away. She told him that likes everything about him and that won't change no matter what he says. He slipped while telling her how much he liked her and dropped an L-bomb and she was so excited and didn't know if she should say it back since it seemed like she couldn't tell if he meant to say it or not.
Zack and Clare decide to go talk and he tells her that all of his eggs are in her basket. He said that he didn't like imagining her on a date with another guy. He said that he wanted to give it a real shot and that he is on the same page as Clare. Then, he said that he felt like she didn't believe him. She said she's glad that he told her how he felt but she thinks that he gets weird when Jackie is around. He says that he doesn't want to date other girls and he wants to see where things go.
Kalon shows up and asks Michelle Money out on his date. She accepts the date, but then seems to regret her decision. She called him a word that the show bleeped out and then, cut to an interview with him where he says he wants to motorboat the *expletive* out of "that". Ew. He's kind of gross.
Later, Michelle went up to him and said that she was really offended by him calling Emily Maynard's daughter "baggage" during her season. Michelle has a child so she says that she can't go on the date with him. She says that she can't pretend to like him on a date. He says he wouldn't expect her to. Jackie is asked out by him next and also says no. Things are not looking good for him! He's really sweating and feeling like a jerk. He goes up to Sarah and she tells him she's with Robert and that's it. He tries to pass it off as just going as friends, but she didn't buy it. He decides to go on his date alone! It's a first in "Bachelor" history!
So off Kalon goes spelunking. He got blessed by some herbs and then strips down and gets geared up. He rappelled down into a cave full of water. He said it was extremely romantic and he wished he could have gone with someone but he was there falling in love with himself. Surprise, surprise. Back at the house, the ladies were still laughing at him.
Jesse Kovacs showed up at the house next and the ladies were really excited to see him. He's from Jillian's season of "The Bachelorette". Most of the girls think he's kind of a player. He showed up with a date card and he decided to ask Jackie. She said yes. Marquel was really upset about it because he likes Jackie a lot.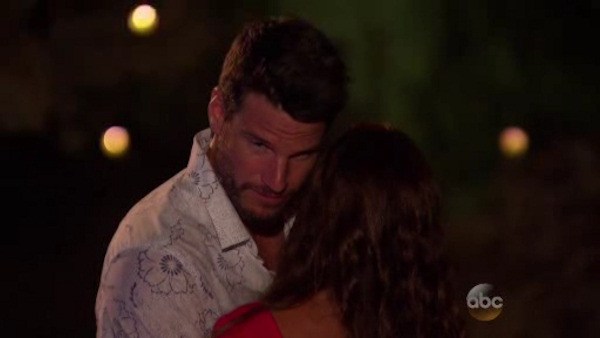 He started off their date by kind of insulting what she wore earlier in the day and said that he loved her dress that she was wearing then. It was really awkward I thought. He spoke a lot about her "vibe". She asked if he was just strategizing by taking her out and he said that if he was he would have gave the card to someone else and hung out with everyone, but he wanted to get to know her. She bought it. There was a private concert for them and it was really amazing. They danced and seemed to really have a great time.
Back on the beach, Michelle and Cody were hanging out and he gave her a massage and they really seemed to connect. She said that it was nice to have that kind of attention from an attractive guy. The next thing you know they're all holding hands and stuff. Oh it looks like a budding romance!
AshLee freaked out that there was a camera around when she was chatting with Zack. She brought up that Clare had sex with Juan Pablo in the ocean. She freaked out. Lacy went and told Clare what she said. Michelle said that AshLee shouldn't have crossed Clare and she would regret it.
Zack spoke to Clare about the comment and meantime Graham was concerned about AshLee being upset. He said that AshLee is so nice and she can only take so much. Well, that wasn't a very nice comment she said! Clare was also mad that Zack didn't really stick up for her in the conversation. Zack said he didn't come here to get involved with girls' drama. Clare walked away from him. I don't blame her, defend her honor! Just say she's not like that, it's as simple as that.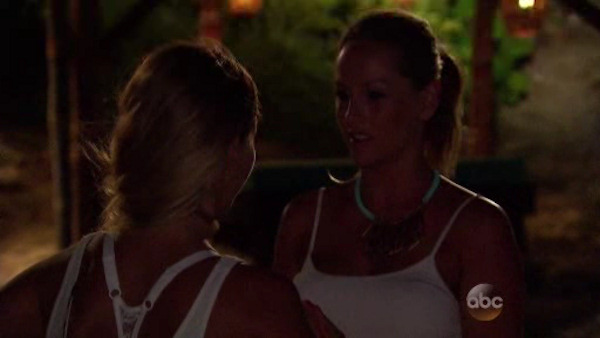 Finally, Clare confronted AshLee. AshLee tried to say that she's Clare's friend and Clare was like, we're not friends. Clare told her there was no reason to bring it up. AshLee apologized and even admitted that Clare has been nothing but nice to her. Clare is done with that woman though and called her tacky to her face.
Before the rose ceremony, things heated up between Michelle and Cody. Michelle meantime, decided to pull Graham aside and told him what AshLee said about Clare and clued him in to the real situation. She told him that she doesn't think that AshLee is good for him and he should not take a rose from her.
During the rose ceremony Lacy gave her rose to Marcus, Clare gave her rose to Zack, AshLee picked up her rose and Graham got up and walked off. So Michelle chased after her, AshLee put the rose down and everyone got confused.
Don't forget, there's another 2-hour "Bachelor in Paradise" Tuesday night at 8 p.m. on ABC!