LAS VEGAS (WLS) --
Las Vegas gunman Stephen Paddock booked hotel rooms in Chicago during the Lollapalooza music festival earlier this year.
Paddock booked rooms at the Blackstone on South Michigan Avenue, Chicago police confirmed. The rooms were booked for Lollapalooza weekend in two separate reservations; one for an Aug. 1 check-in, and the other for an Aug. 3 check-in.
But Paddock didn't show up. A spokeswoman for the hotel issued a statement, saying, "We can confirm that there was no guest under that name who stayed in our hotel during the Lollapalooza music festival. We are cooperating with the authorities on this matter."
The Blackstone is located just across the street from Grant Park and a block away from one of the main entrances to Lollapalooza on Congress Avenue. There are reports that Paddock specifically asked for rooms with a view of Grant Park.
A photo posted on a hotel booking website advertises the Blackstone's view of Grant Park from an upper floor. The perch is eerily similar to what the shooter saw of the Route 91 Festival grounds from the 32nd floor of the Mandalay Bay Hotel and Casino as he unleashed a hail of bullets on concertgoers.
"The venues are similar in nature," said Arnette Heintze, CEO of Hillard Heintze. "If authorities have his computers, I will be willing to bet they will find research he's done on his computers about Chicago, about Las Vegas."
The Lollapalooza festival draws hundreds of thousands of people every year.
Heintze, a security expert, said Paddock's apparent interest in Chicago reveals a level of preparation and sophistication. He expects changes will be made at next year's Lollapalooza in light of the Las Vegas mass shooting.
"This incident will raise the awareness of the risk and threats and vulnerabilities that the elevated attack locations present," he said.
Chicago police spokesman Anthony Guglielmi said that police are aware of the reports and they have been in communication with federal authorities.
"We are working with our law enforcement agencies here, our state police, our anti-terrorism task force. Unfortunately there are bad people seeking to hurt others, unfortunately, across America," said Illinois Governor Bruce Rauner.
Athletes gearing up for Sunday's marathon are determined to stay focused, despite this news.
"You want to be smart, of course, but I'm not going to let him rain on my parade," said runner Joanne Lee.
"I'm going to mostly focus on me and trust that everybody put in place to do their job is going to do their job to keep us safe," said runner Jackson Neff.
Paddock also searched for hotels near Fenway Park, but there is no indication he traveled to Boston.
"We've been in constant contact with the Fusion Center and they've been in constant contact with Las Vegas. We believe we and many others are fully plugged in on that investigation and there is no-there is no imminent threat to anything in Massachusetts or New England," Massachusetts Governor Charlie Baker.
The Boston Police Department issued a statement saying, "We are aware of the media reports referencing a Boston connection to the Las Vegas mass shooting incident that occurred on Sunday, October 1, 2017. The Boston Regional Intelligence Center is in contact with our local and federal law enforcement partners here and in Las Vegas and continues to monitor the situation. There is currently no known threat to the Metro Boston Homeland Security Region related to this incident. The LVMPD is the lead investigating agency, therefore, all further inquiries should be directed to them. The BPD has and will continue to take proper security measures to protect all public venues and gatherings in the city."
The weekend before the Las Vegas bloodbath, Paddock rented via Airbnb - and checked into - a condo in a 21-story luxury building in Las Vegas that overlooked the Life is Beautiful alternative music festival, Sheriff Joseph Lombardo said Tuesday.
Lombardo gave no details on what Paddock was up to. The music festival featured Chance the Rapper, Muse, Lorde and Blink-182.
Paddock's renting of the condo was curious, because as a high-roller, he could have easily gotten a free room at one of the casino hotels on the Las Vegas Strip.
When Paddock checked into the Mandalay Bay on Sept. 28, he requested an upper-floor room with a view of the Route 91 Harvest music festival, according to a person who has seen hotel records turned over to investigators and spoke on condition of anonymity.
Investigators trying to establish the motive for the attack have had little more to chase than hints and shadows.
While other mass killers have left a trail of plain-sight clues that helped investigators quickly understand what drove them to violence, Paddock led a low-key, private life. He had no known criminal record and almost no close friends or social media presence.
The No. 2 official in the FBI said Wednesday he was surprised investigators had not uncovered more.
PHOTOS: Las Vegas mass shooting
"There's all kinds of things that surprise us in each one of these events. That's the one in this one, and we are not there yet," FBI Deputy Director Andrew McCabe said. "We have a lot of work to do."
Investigators have zeroed in on a weapon-buying binge Paddock went on in the year before the attack. They wonder if he had some sort of mental break at the time that drove him to start making plans for mass murder.
They are also looking at his gambling habits and checking records for any disputes he might have had with casinos or fellow patrons.
On Wednesday, FBI agents trying to understand his state of mind questioned his girlfriend, 62-year-old Marilou Danley, who was out of the country during the attack. She was visiting her native Philippines.
She said she had no inkling of his murderous plans.
"He never said anything to me or took any action that I was aware of that I understood in any way to be a warning that something horrible like this was going to happen," she said in a statement read by her lawyer.
ACTS OF HEROISM FORM VICTIMS OF LAS VEGAS SHOOTING

With bullets raining down, some of the victims in Las Vegas ignored their own wounds to try and save others.
Theirs are incredible stories of bravery and selflessness as ordinary people protected strangers and saved lives.
When shots rang out, few hesitated to help others. There's the woman who saw a boy standing alone and stayed by his side after the child had been separated from his mother in all the commotion. She used social media to reunite the child with his family. And then there's the man who held his finger over another man's wounds despite being injured himself.
There's also the firefighter who was shot in the arm while giving someone else CPR.
"We could hear the gunshots and the ricochets and the whizzing of the bullets over our heads. I kept doing chest compressions with one arm until I noticed I was starting to bleed a lot," said firefighter Mike Kordich.
A GoFundMe page has been created for the Vegas victims and their families. It now surpassed $9 million.
ILLINOIS MAN BRINGS MEMORIAL CROSSES TO LAS VEGAS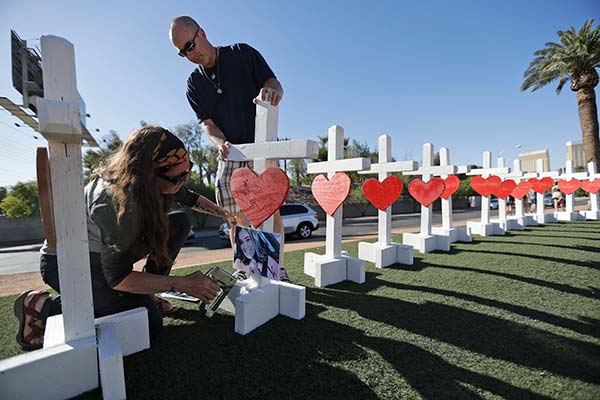 An Illinois man has installed 58 white crosses on the Las Vegas Strip to honor the victims of Sunday's mass shooting.
Greg Zanis drove nearly 2,000 miles from the Chicago area to put up the crosses Thursday afternoon.
The 66-year-old retired carpenter is known for installing the markers at other mass killings, including the Columbine and Sandy Hook school shootings and Orlando nightclub massacre.
Zanis says he's made more than 20,000 crosses after making his first 20 years ago when his father-in-law was killed.
He plans to keep the tribute up for 40 days before giving the crosses to the families of the victims.
The Associated Press contributed to this report