Each week, "Windy City LIVE" wants to know what keeps you up at night? Do you need advice on a relationship? Do you have a problem in your family and need an honest ear? Maybe you are stressed about an issue at work? Whatever your PILLOW TALK issue may be, send it to us.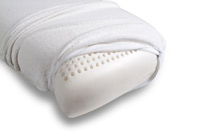 If we choose your question, we'll not only talk about it on the show and give you a shout out on the air, you will also win a $129 Coconut Bliss Pillow!
The premium memory foam is blended with natural coconut oil creating support and plushness. The Coconut Bliss Pillow is also naturally anti-microbial and anti-fungal.
RULES AND RESTRICTIONS DO APPLY. READ THE OFFICIAL RULES HERE.
CLICK ON THIS LINK TO SUBMIT YOUR "PILLOW TALK" QUESTION