CHICAGO (WLS) --
Don't let the sunshine fool you. It's still very cold outside. Temperatures are expected to fall and wind chills will remain below zero throughout the day Tuesday.
ABC7 Meteorologist Cheryl Scott said temperatures are expected to fall from the upper teens to the single digits by the afternoon. Low temperatures will be near zero degrees Tuesday night.
DOWNLOAD THE APP:
ABC7 Chicago Weather App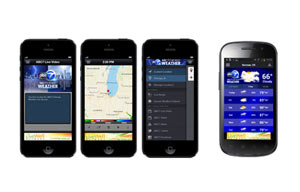 The combination of blowing snow and icy roads made driving extremely hazardous Tuesday.
All morning long in northwest Indiana, there were spin outs and accidents on I-80/94 and the Indiana Toll Road. Lanes were shut down to steer commuters away from snow and ice.
"I noticed coming in here, there was a lot of snow still out on the road," said Brian Davis.
"If you hit a patch of snow, it knocks your wheels a little bit," said Tom Sadzak.
Salt trucks and snow plows were out, but the dip in temperatures turned any snow left on the road into black ice. A double-bottom FedEx truck jackknifed on the northbound Tri-State Tollway near I-290 west of the city early Tuesday morning. Lanes were blocked for hours as crews worked to get the truck off a wall. An overturned truck blocked lanes on the inbound Eisenhower Expressway between Central and Austin, causing major delays.
While traffic was heavy throughout area in the morning, the truck jackknife was the only major accident. Drivers say once the sun came up, roads cleared.
"I started at about 6:30, 7 and it was very slippery, but as time went on it warmed up a bit," said George Timmons, an Uber driver.
As commuters gear up for the afternoon commute, IDOT is also keeping an eye on black ice and drifting snow.
"Because the temperatures are so cold and pavement is still a little wet, there is potential for roads to freeze back, so the trucks will be looking to treat the roads and watch out for areas with scattered icy conditions," said IDOT spokesperson Gianna Urgo.
BUNDLE UP
Commuters should bundle up Tuesday. Dr. Sindhu Kurian, of Northwestern Immediate Care, recommends dressing in light layers. She said wearing a hat, gloves and boots are key. Frostbite can occur within minutes if skin is left exposed during the extreme cold. Hypothermia is also possible.
Chicagoan Kevin Decuir said the walk from Union Station to work can be painful when temperatures are below-freezing and the wind picks up. But he's prepared.
"It's like knives cutting through your skin. It's so cold out here with the wind chill being what it is. I try to put Vaseline on. I have a co-worker that's going to give me some Vaseline as we walk together. I'm going to try to prepare for that," Decuir said.
"If you live here, you know better. If you visit here, you're in trouble," said Chicagoan Mark Douglas, laughing. "That's about all it is. But the weather - this is Chicago. It's just cold. It's cold in January."
"It's just cold. That's all I can say. I'm fine. I woke up this morning, so the rest is gravy. I can deal with the cold," another commuter said.
WARMING CENTERS OPEN IN CITY
Citywide warming centers are available for those who need access to warm and comfortable shelter during the frigid weather. Residents with insufficient heat or who need shelter should call 311 for immediate assistance locating their closest warming center.
Residents can also call 311 to file a heat complaint. From Sept. 15 through June 1, the temperature inside rental residences is required to be at least 68 degrees from 8:30 a.m. to 10:30 p.m. and at least 66 degrees from 10:30 p.m. to 8:30 a.m.
There are also six regional Community Service Centers that double as warming centers and are open from 9 a.m. to 5 p.m., Monday through Friday. The Garfield Community Center located at 10 South Kedzie is open 24-hours and connects families and residents to emergency shelters. There are also 21 senior citizens centers that serve as warming centers during business hours for Chicago seniors.
LOOKING AHEAD
Butler said high temperatures will remain in the teens on Wednesday, with up to an inch of light snow falling in the afternoon. It will be warmer on Thursday and Friday, with highs in the 30s.
CLICK HERE for the latest 7-day outlook from the First Alert Weather Team: