CHICAGO (WLS) --
It's a faster way to get you to the ER or transport you from one hospital to another. Patients and their families may be grateful for the speedy care but they sure aren't happy when they get a sky high bill from an air ambulance company.
Just minutes in an air ambulance could end up costing you many thousands of dollars.
INFOGRAPHIC: What's the cost of an air ambulance?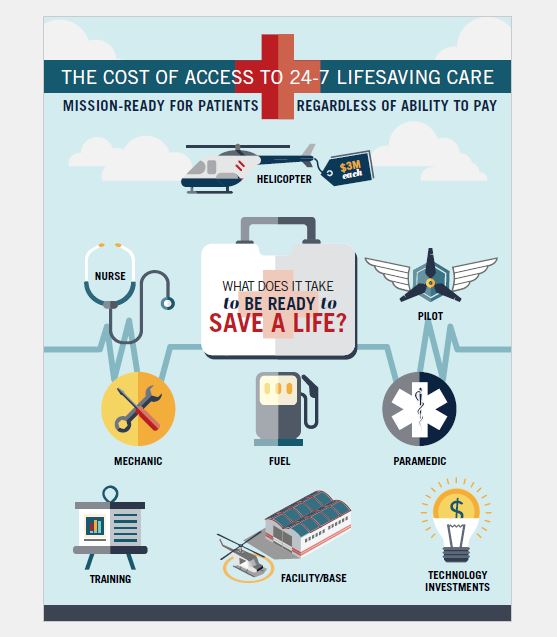 "It takes advantage of people when they are at their most vulnerable and really aren't in a position to make any decision," says Jean Medina.
Medina, from west suburban Geneva, owes $17,548. Her then 12-year-old daughter Sophia suddenly started bleeding from her throat during vacation. After arriving at a Naples, Fla., hospital, doctors decided she needed to be transferred to Fort Myers 37 miles away.
"The Fort Myers doctor wanted her there more quickly and wanted her to go by air and they were going to send a helicopter," Medina says.
But Medina says they actually waited 40 minutes for that helicopter.
"We could've been well on our way, if not already there, by ambulance," she says.
Her original bill was about $34,000. Insurance covered almost $6,000 and after she complained Air Methods discounted the bill by more than $11,000, leaving her that $17, 548 balance. Paul Webster from Air Methods says Medina's insurance should have covered more.
"We work very hard with each individual patient to work alongside them to appeal to the insurance company," Webster says.
But he admits Air Methods raises the cost for those like Medina - who are privately insured - because they lose money on patients with Medicaid or Medicare.
"We have to accept what Medicaid and Medicare pay," Webster said. "We lose money on seven out of 10 transports.
The I-Team has learned of complaints about other companies. Michelle Resendez of Northwest Indiana was transported by PHI Air Medical.
"Because I was working and because I had insurance, they were preying upon that," Resendez says.
After taking a bad fall, Resendez was transferred 45 miles by helicopter from one hospital to another. Her insurance covered $12,600 of the trip. PHI Air Medical sent her a balance for about $16,000. She says her husband's employer ended up settling, paying a portion of it. Before that, Resendez says, PHI hounded her for payments.
"I thought that was very invasive. How does a company get to request this financial information to determine what your monthly payment was going to be? It was astronomical," she says.
PHI wouldn't talk about Resendez' bill but said it has one of the most compassionate billing practices in the industry and that programs often result in a reduced bill, a payment plan, or in some situations, the elimination of all charges.
In November, the Indiana Department of Insurance sent out an alert about coverage gaps that can leave patients struggling to pay air ambulance bills. It warns that states can't regulate rates and that patients should check policies and add more air ambulance coverage if needed.
"I'm trying to understand, you know, what is this bill? This seems outrageous to me," says Medina.
Air Methods says it tried to negotiate a lower pay-off rate if Medina pays in full but she declined. The company made $108 million in profit in 2015. In fact, it represents about 25 percent of the air ambulance industry.
ABC News and Brian Ross are investigating this issue of "sky rage" and big bills Tuesday night on Nightline. You'll hear from more Air Methods customers and why their bills are so high.
TIPS ON AVOIDING SKY-HIGH BILLS
The Indiana Department of Insurance issued a consumer alert on November 20, 2015, regarding insurance gaps related to private air ambulance services in Indiana. In the consumer alert, the department warned that while some health insurance policies provide coverage for air ambulance services, coverage gaps can leave patients struggling to pay. The department encourages consumers to protect themselves by finding out what air ambulance coverage they have by reading their health insurance policy or contacting their agent. If they need additional coverage, they can talk to their insurance company to see if extra air ambulance coverage is available to purchase.