CHICAGO (WLS) --
Lightning struck a suburban Vernon Hills townhouse complex as severe storms passed through the Chicago area Monday evening.
A three-story, four-unit townhouse complex in the Aspen Point subdivision was hit by lightning around 7:15 p.m. No one was injured.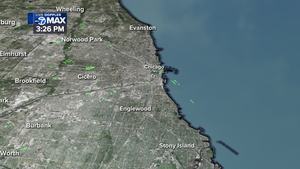 TRACK THE STORM: LIVE Doppler 7 MAX
The fire department said there was very little, if any, fire in the building, but there is damage to the roof, shingles, and electrical wiring.
At least one resident said she thought she was experiencing an earthquake.
"I was sitting there on the phone with my dog on my lap and it thought our house exploded," said Sharon Powell. "We looked out and there was things flying all around from up there."
"Lightning strike hit and traveled down the conduit, dryer vent, and mostly electrical damage, and blew out some outlets," said Battalion Chief Kevin Wodrich, Countryside Fire Protection District.
Because of power outages and concerns about the electrical wiring in the building, residents of the four units here are having to stay elsewhere Monday night.
The fire department here has been busy. They said that about 45 minutes after responding to this lightning strike, there was another strike on a single family home in Hawthorn Woods. No one was injured there, and there was minor damage to that house.
The storms also packed a lot of hail, with the majority of the reports coming in from the north and northwest suburbs. A video posted on the ABC 7 Chicago Facebook page showed hail falling fast and hard in McHenry.
WATCH: ABC7 First Alert Weather Forecast