CHICAGO (WLS) --
Summer in Chicago got off to a hot, steamy, windy - and for some stormy - start across the area Monday.
The high was 92 degrees, well above the 81 degree average, and humidity was thick, but as a cold front moved in scattered storms developed primarily south of the city and in Indiana.
In Shorewood, Ill., the storms knocked down trees and penny-sized hail was reported.
A pounding storm roared through White County, Ind., leaving destruction in its wake. Brookston resident Sue Taylor's Ford Fusion was destroyed. She said she was just grateful she wasn't in it.
"We don't know if lightning hit that tree or whatever, but that's my car right there," Taylor said.
Hal Miley says he witnessed the storm as it headed onward Lafayette, Ind.
"I thought, well I'd better go back in, and as soon as I turned around I heard a big crack, and I turned around just in time to see it fall on it," Miley said.
Some were left without power, and in LaPorte County, Ind., the roof was blown off a building. Residents are left surveying the damage, but no injuries have been reported.
Ominous clouds and scattered showers in Clarendon Hills didn't dampen the first day of summer for kids having fun at day camp trying to catch flying marshmallows.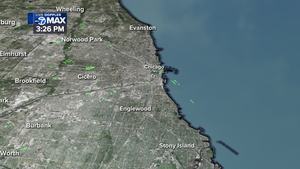 CLICK HERE to see the latest radar view from LIVE Doppler 7 MAX
If the weather got too hot and humid, there were places to cool down indoors and plenty of water fountains to fill up bottles brought from home.
"We do lots of water breaks," said Emily Golembiewski, recreation supervisor for youth, teen and adult programming. "We try to have our activities near where there are trees. If it's a certain degree we will try to keep outside activity limited."
Camp directors said they're keeping a close eye out for signs of heat exhaustion. One mom says she always makes sure her three kids stay cool and hydrated.
"Lots of fruit, lots of water," said Christine Podolak. "We always have water with us."
In Chicago, it was breezy but it definitely looked and felt like summer at the 31st Street Beach.
"We just rode out bikes on this trail here and ended up on the beach," said Danny Degirolamo.
There were families enjoying the sun and sand and a few people swimming. Those who did dare venture into the water told said even though it's the first day of summer, in Lake Michigan it still feels like winter.
"It's like chilly freezing temperatures like ice cubes," said one man.
There was a constant line at Ferro's Italian ice Monday. On real scorchers the owner says he sells more than 150 pounds of Italian ice.