CHICAGO (WLS) --
A fast-moving line of thunderstorms forced half marathon runners to take cover Sunday morning.
Storms bringing winds, heavy rain and lightning briefly suspended the Chicago Rock 'n' Roll Half Marathon shortly before 9:30 a.m., re-opening about a half-an-hour later.
The rain quickly flooded some streets, but it was the lightning that caused the most concern. Race finishers were warned about their medals attracting lighting.
Despite organizers announcements, many runners chose to ignore them in their quest to finish.
The 10K race started and ended in Grant Park with 18,000 runners registered and band performing along the course. The post-race concert continued like nothing ever happened.
Due to heavy lighting strikes within a 7 mile radius #RnRCHI is being temporary suspended. Seek shelter & stay tuned until storm has passed.

— Rock n Roll Marathon (@RunRocknRoll) July 17, 2016
Lightning from the storm is believed to be
responsible for a house fire in Vernon Hills.
More thunderstorms are expected Sunday afternoon, with a slight risk for severe weather.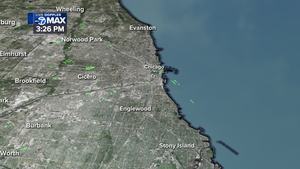 CLICK HERE to see the latest radar view from LIVE Doppler 7 MAX