INDIANAPOLIS (WLS) --
About a dozen tornadoes touched down Wednesday night in Indiana and Ohio. That number is likely to go up Thursday, as National Weather Service teams are dispatched to survey the damage.
Now, residents are cleaning up the damage left behind by the storms. One of the areas hardest hit was Kokomo, Ind., 40 miles north of Indianapolis. Many people in the community are thankful that everyone survived the tornado.
Right before the tornado hit in Kokomo, one family, including one-week-old Isabelle took cover in the basement.
"Everybody was freaking out," Caleb Schwartz, a Kokomo resident, said. "She's just sleeping throughout the whole thing."
On Thursday, they started cleaning up the damage to their home and yard and having a cook out. They're one of thousands without power.
"We are fortunate compared to a lot of these other people. I am lucky we still have our house," Tammy Powell, Kokomo resident, said.
PHOTOS: Tornadoes touch down in north central Indiana
Here's a list of where those twisters struck:
1. Near Crawfordsville, IN - Montgomery County
2. Kokomo, IN - Howard County
3. Near Arcana, IN - Grant county
4. Near Woodburn, IN - Allen County
5. Near Berne, IN - Adams County
6. Near Antwerp, OH - Paulding County
7. Near Salem, IN - Adams County
8. Near Bennetts Switch, IN - Miami County
9. Near Brunersburg, OH - Defiance County
10. Near Mahon, IN - Allen Coun
Republican Vice Presidential Candidate Governor Mike Pence took a break from the campaign trail to visit residents of his home state who were impacted by the twisters.
Pence landed Thursday morning in Kokomo,
one of the hardest hit areas
. A preliminary survey shows an EF-3 tornado with maximum winds of 165 mph struck the town, the National Weather Service said.
At least eight of the ten tornadoes touched down in central Indiana, tearing through homes and bringing down trees, signs and power lines. The winds tossed cars and RVs through the air before they came crashing down to the ground.
"You wouldn't believe all the stuff in the air. I come out and I was just in shock. Trees everywhere," said Daryl Beachy, an Indiana resident.
The tornado leveled a Starbucks. The people inside hid in a bathroom. All of them are OK. Students dropped to the floor to take cover. Jaylin Gibbons, 14, described the scary moments when the tornado hit.
"It jerked the door out of my hand and I had to shut it. Then we ran into the bathroom and then the furnace exploded," Gibbons said.
Despite all major damage to homes and businesses, only about 20 people were injured. All of those injuries were minor and were caused by flying debris. No fatalities were reported.
"It's just very moving to me, to talk to these families, family members who were in their homes, to see these homes virtually completely destroyed. But because of people's quick thinking, because of an early warning system here locally, no serious injuries and no loss of life. That's a miracle," Pence said.
There is no school Thursday in Kokomo and the traffic lights are out.
Utility companies said more than 32,000 customers were in the dark in Indiana Wednesday night. Thousands remained without power as the cleanup continues Thursday morning.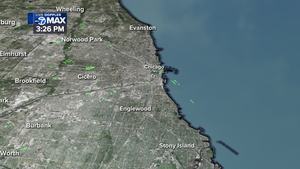 CLICK HERE to see the latest radar view from LIVE Doppler 7 MAX