URBANA, Ill. (WLS) --
It's been almost two weeks since anyone has seen or heard from Yingying Zhang, the Chinese
University of Illinois student
whose disappearance is being investigated as a
kidnapping
.
Zhang's family arrived from China on Tuesday to join the FBI in its search for their 26-year-old daughter. They hope they can bring her back to China, and they plan to stay until they find her.
"When she was in high school and in college, she always worked very hard, she would stay in the library so she just wanted to pursue her dream in academia," said a family member.
Zhang arrived in Champaign-Urbana in April to work as a scholar. Her family said she was always dreamed of becoming a professor and aspired to help others.
"When Yingying is in America, we always video chat together, and her dad always tells Yingying to take picture often of the area and she would always say, 'The area I live in is very very safe'," said a family member.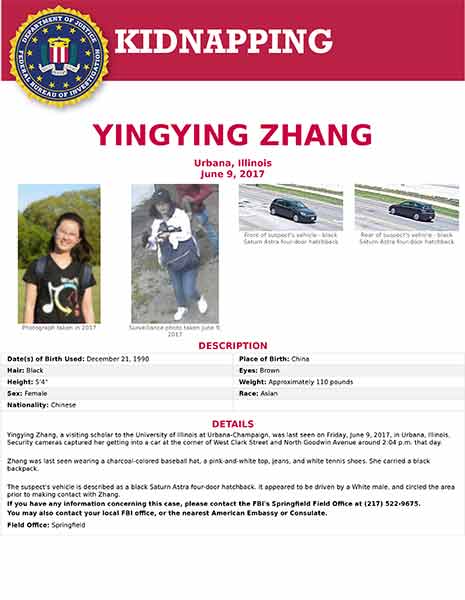 Zhang was last seen getting into a car, possibly a ride-share vehicle, on June 9.
Her boyfriend was one of the first people to learn she went missing. He said he didn't want to share the information with the rest of the family right away because he just couldn't believe it was true.
The
reward
for any information regarding Zhang's disappearance is $50,000.
Champaign County Crime-Stoppers offered its largest reward ever: $40,000. That money was raised through a GoFundMe page.