HOUSTON --
Bobby Farris was your typical kid at Memorial High School in the 1990s. His classmate Richard Nava described him as fairly popular, but being teenagers, Farris and Nava would often get into trouble.
"We were all bunch of young kids having a good time in high school," said Nava, who never expected to see Farris as the focus of a police standoff.
However, that's exactly what happened in Seattle on Tuesday afternoon. Dozens of officers surrounded Farris' Seattle apartment. Eventually they would arrest the 37-year-old and accuse him of threatening to shoot Muslims and other people via Facebook posts.
"My initial reaction was shock, it was unbelievable. I never imagined it," said Nava.
In fact, it was one of Farris' other high school classmates who first noticed the threatening posts. In one entry, Farris uploaded a picture of the Idriss Mosque in Seattle, and wrote: "too many targets to count."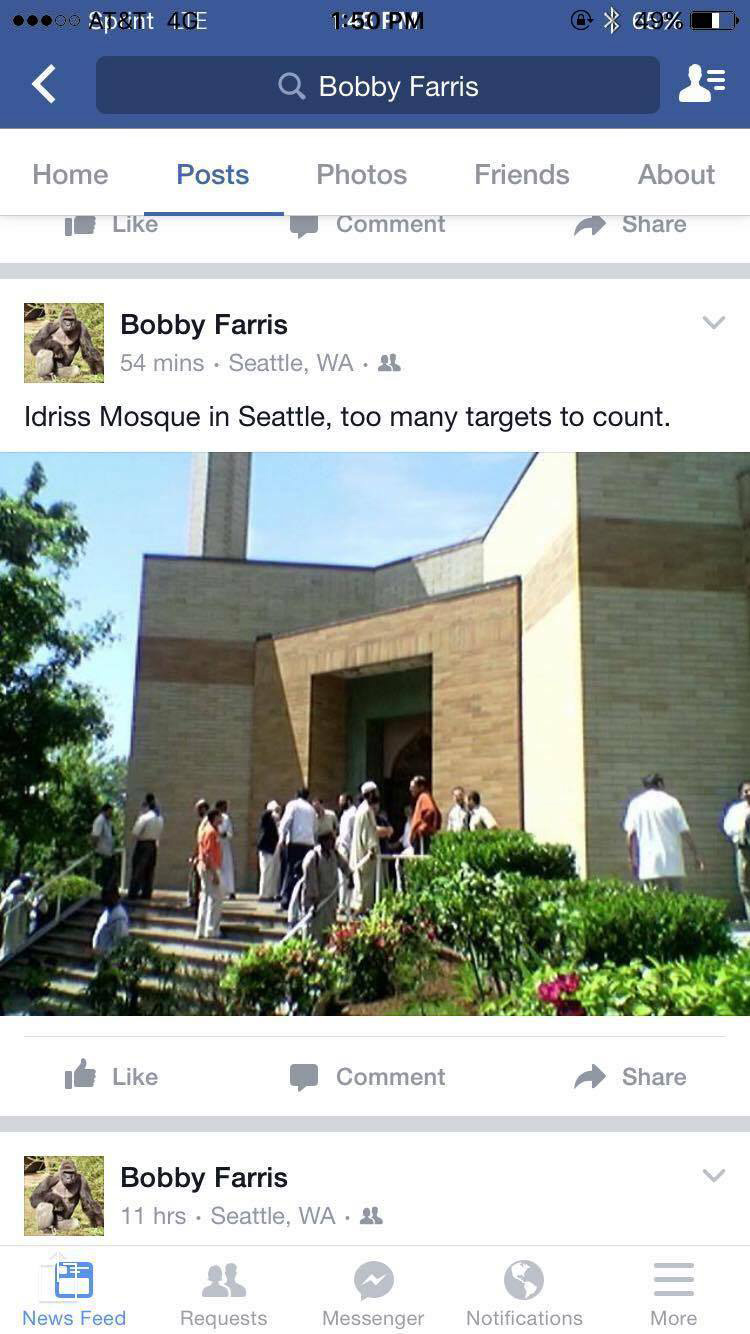 In another post, Farris wrote: "All you gotta do is kill as (many) Muslims as you can, and when the cops get there, point the gun at the cops and don't shoot. They will shoot you and it's over, no prison."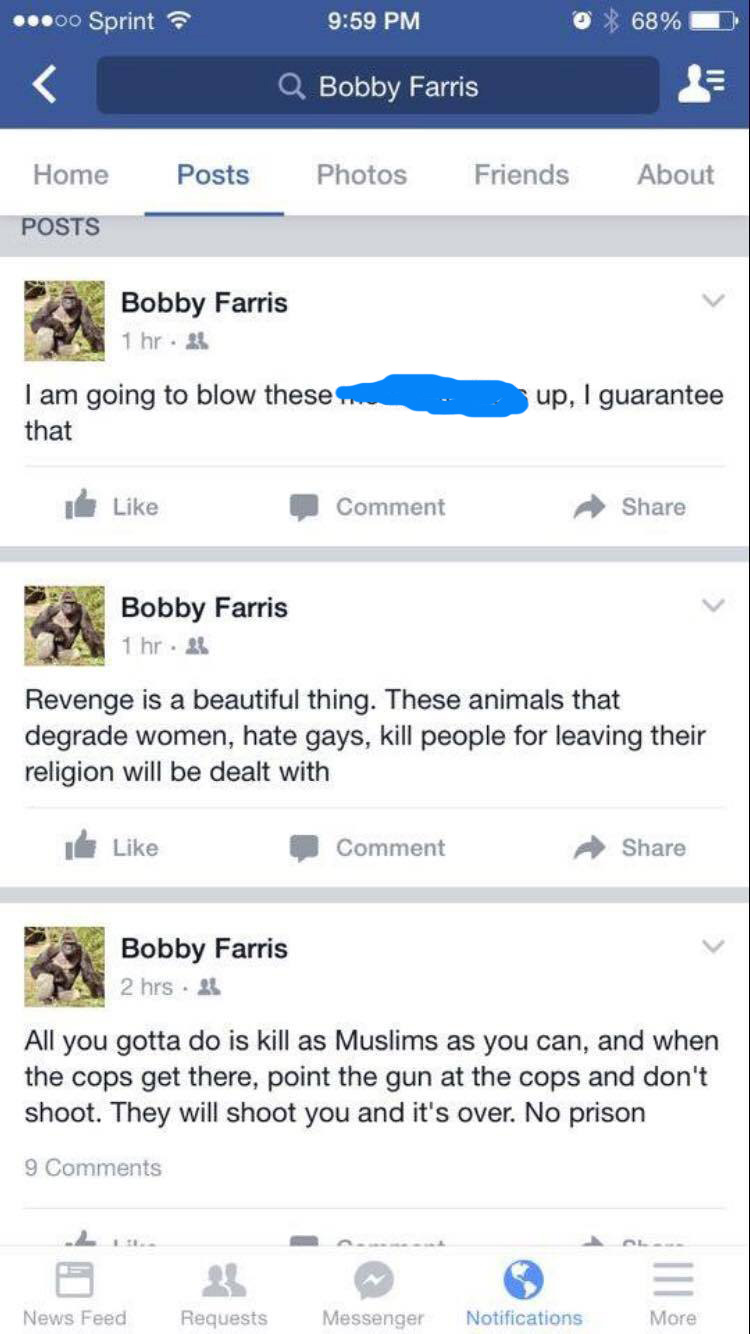 Several similar posts were made, and many contained expletives.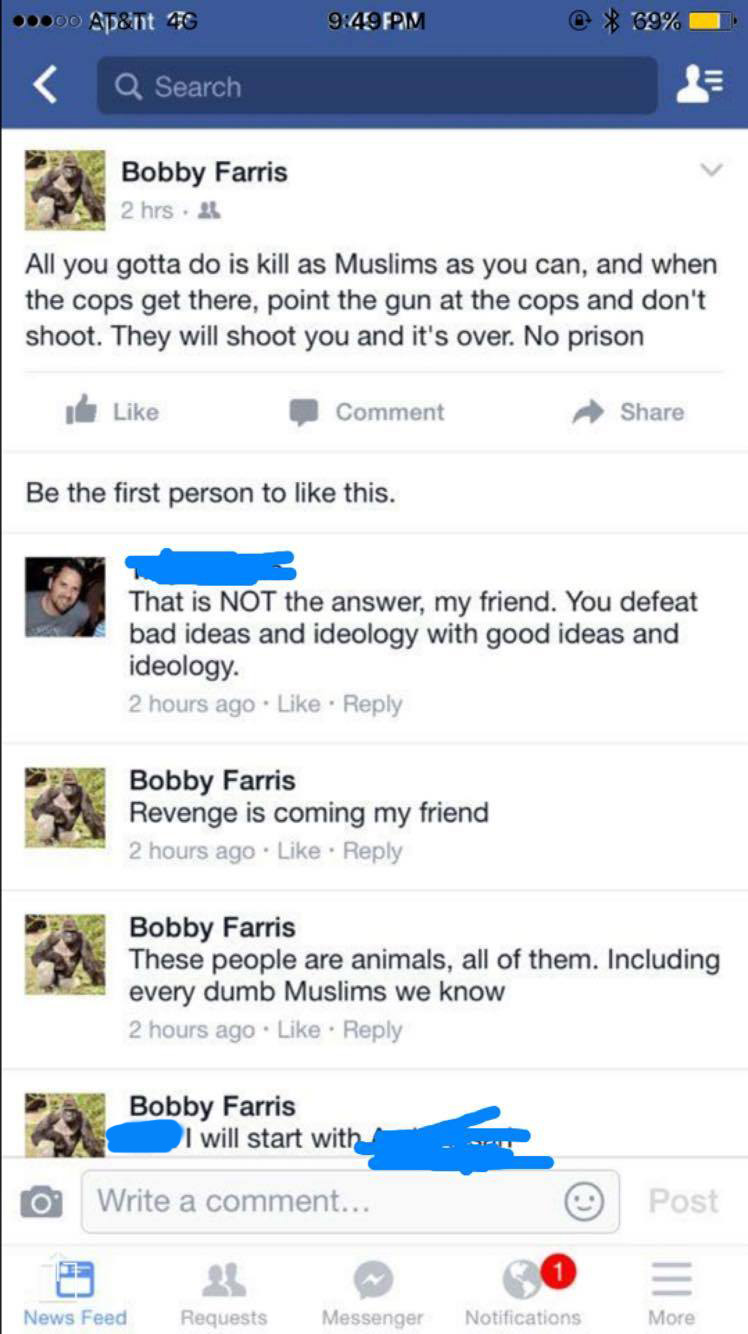 The posts caused the former classmate to call Hedwig Village Police Sgt. Marvin Collins.
"Our complainant had received a Facebook posting that this guy had threatened not only to shoot Muslims but him in particular, that he was the first person that was going to be shot," said Collins.
After reviewing the posts, Sgt. Collins contacted the Seattle Police Department, who had also been tipped off about the postings. That led Seattle Police to Farris, which led to a standoff, and then, eventually his arrest.
"I feel very relieved this guy was taken into custody and can't harm others now," said Collins.
Both the Facebook threats and the standoff are the last things Nava expected from Farris, who grew up in Houston's tony Tanglewood neighborhood. His parents still live there, though efforts to reach them by Eyewitness News were unsuccessful.
Farris has had several minor brushes with the law, including an arrest in Travis County for Harassment three years ago.
"I think he's innocent until proven guilty," said Nava, who is now a lawyer and wants to give his old classmate the benefit of the doubt. "Do I think he made a bad judgment call? Absolutely. Would I have done something like he's done? No absolutely not."