CHICAGO (WLS) --
Storms moved through the Chicago area, leading to delays at O'Hare International Airport and flooding across the west and northwest suburbs - and more heavy rain is forecast for overnight Monday.
As of 8:45 p.m. Monday, 90 flights had been canceled at O'Hare and delays averaged 45 minutes. At Midway, delays averaged an hour or more. Flights leaving O'Hare Monday afternoon were subject to a ground delay while those arriving were placed on a ground stop.
TRACK THE STORM:
Click the Interactive Radar Map at right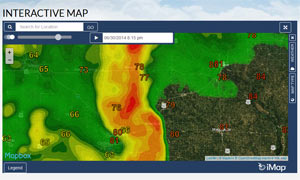 Flooding was reported in Des Plaines in flood-prone viaducts, and standing water closed Golf and Wolf roads near Northwest Highway Monday afternoon. Heavy winds also brought down a large tree in Des Plaines, and several residents also reported flooded basements in the area.
"We had multiple pumps going, but when it pours very heavily in a short period of time, that's when we have a big problem," said Mike Wasiewicz, Des Plaines homeowner.
DOWNLOAD THE APP:
ABC7 Chicago Weather App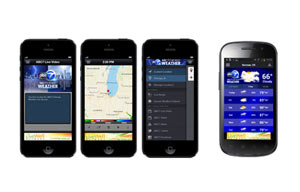 In west suburban Lagrange, police also blocked off a flooded viaduct at Ogden and Burlington.
Wisconsin will see most of the severe weather, but 1-2" of rain is forecast to fall across the Chicago area late Monday night, Taft said.
"Some of the rain between about 9:30 and midnight will be heaviest here in Chicago," Taft said. "If you're prone to flooding, be prepared to see some heavy rains tonight."
Motorists are urged not to drive into standing water on roadways, and instead turn around and move to higher ground.