CHICAGO (WLS) -- It was a bumpy night across the Chicago area as storms rolled through, dropping heavy rain along with some really dramatic lightning shows.
A Tornado Warning was issued Sunday night for Putnam County, which is about two hours southwest of Chicago. Storm spotters said a tornado briefly touched down there. No damage or injuries were reported.
A Severe Thunderstorm Watch was in effect until 1 a.m. for most counties south of Interstate 80 in both Illinois and Indiana counties, including Will, Grundy, Iroquois, Kankakee, LaSalle, Livingston and Ford.
While multiple tornado warnings were issued in those counties, no confirmed tornado touchdowns were reported by 11:15 p.m.
By 10:15 p.m., all tornado warnings expired after more than an hour as the weather system moved east from Grundy to the Indiana border, and as far south as Ford and Iroquois counties.
Severe Thunderstorm Warnings were in effect for several counties south of Chicago, but expired by 10 p.m.
In Dwight, a funnel cloud was spotted. Dwight Fire Chief Paul Johnson said the community sustained no serious damage due to the storm. High winds, lightening and torrential downpours occurred after 8 p.m. in the Livingston County village and caused flooding and downed trees. Two homes were hit by lightening, he said, but no resulting fires.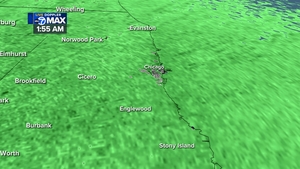 CLICK HERE to see the latest radar view from LIVE Doppler 7 MAX
After the large swatch of storms moved through, the Midwest is bracing for a blistering hot and sticky week.
"It's going to feel the most uncomfortable it's felt all summer," Kevin Donofrio, a National Weather Service meteorologist in suburban Chicago, said of the expected heat wave.
Temperatures in Chicago and stretching into Iowa, Missouri and Kansas and up into Wisconsin are expected to reach 90 degrees by Thursday or Friday, with the same story - though perhaps a bit warmer - anticipated in Minnesota. And in all these areas, the humidity is going to make the temperatures feel like they have reached and even passed the 100-degree mark.
Watch the latest forecast from the First Alert Weather Team:
"Anybody that's out and about running around is going to have to limit their exercise because of the heat," said Tony Zaleski, a weather service meteorologist in Chanhassen, Minnesota, explaining that the expected temperatures in the upper 90s are a good 10-12 degrees above normal for this time of year.
On Sunday, thunderstorms with winds greater than 40 mph rolled through Chicago, Iowa and other parts of the Midwest, the most violent of which apparently hitting Iowa.
There, storms knocked down trees and damaged homes and businesses. In Walford, firefighters had to rescue a man from the rubble of a house that collapsed. The weather service said the storm, which also knocked over some farm equipment, was caused by a tornado.
Meteorologists said they expected the thunderstorms would be followed Sunday afternoon and evening by even more powerful storms that had the potential to include winds of 60 mph, large hail and as much as an inch of rain, Donofrio said.
Lightning from the storm is believed to be
responsible for a house fire in Vernon Hills.
The Associated Press contributed to this report
.