CHICAGO (WLS) -- Severe thunderstorms raced across the Chicago area Friday afternoon and evening, leaving widespread power outages and reports of wind damage in their wake.
ComEd reported 64,500 total outages as of 8 a.m. Saturday, with the hardest hit areas north and west of the city. Of those, 56,000 were reported in the north region, 8,200 in the west region, 200 in the south region and 30 in Chicago, officials said.
"Quite a few street blockages, sidewalk blocks, power lines down, and trees down on houses," said Assistant Chief Tom Burke, Northfield Fire Dept.
The storm's trail of destruction extended far and wide.
In north suburban Winnetka, Molly Glynn was riding a bike in the Skokie Lagoons when she was hit by a falling tree on Friday. She was pronounced dead Saturday afternoon.
In northwest suburban Des Plaines, a commercial building that was being remodeled near River and Rand Rd. partially collapsed due to the storms. Officials said five people were taken to area hospitals with non-life-threatening injuries. In nearby suburban Schaumburg, a Chick-fil-A restaurant under construction was damaged by high winds. No injuries were reported.
And in Palatine, high winds uprooting a massive tree more than half a century old.
DOWNLOAD THE APP:
ABC7 Chicago Weather App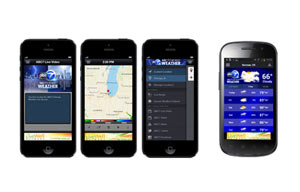 "Very solid, was well trimmed and pruned back. There's no reason it should have come down. It was a powerful burst," said Dave Nowlan, a Palatine resident.
The Nowlans are lucky because the tree just missed their house and caused only minor damage next door. Their neighbor is counting her blessings.
"We just had another tree removed two weeks ago, so we're lucky. That tree could have fallen, and it didn't," said Elena Krikun.
At the height of the storm, shortly before 3 p.m., torrential rain and powerful winds battered Hoffman Estates.
"The trees were bent over like this, and the wind was blowing, and it was like rocks hitting the roof. It was horrible," said Renee Yass, a Hoffman Estates resident.
The storm forced officials at various schools to delay dismissing students.
"The teacher just turned the lights on, and then the lights started flickering. And then bam. It just went black," said Max Molina, Hoffman Estates High School student.
A house caught on fire after a tree branch fell on a power line. And in Des Plaines, an auto repair store being renovated collapsed and hurt five people, though their injuries were minor.
Power outages were widespread Friday. The Dunns in Palatine marked the night with candles and wine.
"We're thinking about dinner is going to be trying to find an open pizza place that will deliver to us, and we'll eat it on the porch," said Nancy Dunn, a Palatine resident.
Chicago's airports reported delays due to the storms Friday night. At O'Hare, delays are averaging about 90 minutes with more than 370 flights canceled as of 8:45 p.m. At Midway, flights are delayed about 20 minutes.
Due to the extensive damage in Palatine, Lutheran Church Charities deployed its Lutheran Early Response Teams at 8 a.m. Saturday at the Immanuel Lutheran Church, 200 N. Plum Grove in Palatine. For more information on the relief fund, visit the church's website
here
.
In an earlier version of this article, ABC7 incorrectly reported that Glynn was pronounced dead Saturday morning based on information from the Medical Examiner's Office.