CHICAGO (WLS) -- The I-Team found that your children could be eating candy that contains lead, and while most of the sweets are imported from other countries some of the tainted candy can be found in the Chicago area, including at some big box stores.
"She's delayed. She should be saying, now, 10 to 20 words, and she's saying there to four words," said Sandy Molina.
Molina and her pediatrician were concerned that her 2-year-old daughter Elianna wasn't talking. During a regular checkup, they decided to run some tests.
"They did normal blood tests and as soon as the results were in she called and told me her levels were high," Molina said.
Lead was found in Elianna's blood. That finding triggered the Cook County Health Department to come to the family's home.
"They checked everything, they didn't find nothing. They checked even seasonings that I cook in, they checked the water, the stairs, you know the wood and sometimes the paint peels. Nothing. They didn't find no lead in the items here," Molina said. "Even her toys."
Even though lead paint is the usual suspect in the Chicago area, County Health Department officials gave the home the all-clear.
Then, Molina was shown a flier created by local health organizations in 2012, including Loyola University, warning families of lead found in candy. Molina and her daughter recognized some of the potentially tainted sweets.
"She liked the lollipops," Molina said. "Yes, I stopped giving it to her immediately."
Just because the candies are on the flier doesn't necessarily mean they contain lead; they have only been identified as a risk.
"These candies are usually imported from other countries. Sometimes India and sometimes Mexico. So we always have to do our job to identify first of all the source, where they got if from. It may not be from the house they live in is the source. It's a detective story that we have that has to unfold to identify the sources," said Dr. Terry mason, chief operating officer at Cook County Health Systems.
Lead exposure can cause harm to the nervous system in infants and young children. This can lead to learning disabilities, behavioral disorders and long-term health problems. The Centers for Disease Control says no amount of lead in the body is safe.
Elianna now receives speech therapy and practices with her mother.
"It's frightening because you never know, that candy can be so good but it can cause damage, like delayed speech," Molina said.
Lead has been found in candy imported from Indian, China, Taiwan and Mexico, according to the California Department of Public Health, which tests treats for lead. Neither Cook County nor the state of Illinois tests food for lead. The
FDA says it has an "ongoing program
in which it buys, prepares, and analyzes about 280 kinds of food and beverages, four times a year, to estimate contaminant consumption annually."
Click the image below for the FDA's import warnings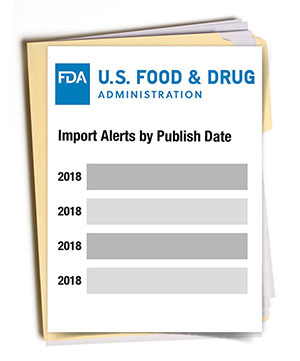 California passed a law in 2005 requiring their Department of Health Services to test treats. More than 1,500 tests of Mexican candy have been documented since 1993; one in four of those tests found lead. The department issued 164 health alerts for lead in candy, more than alerts issued for food born contamination like E. coli, salmonella, and botulism combined. The department then works with the manufacturer and distributor to initiate a voluntary recall.
Click the image below for the a list of candy lead test results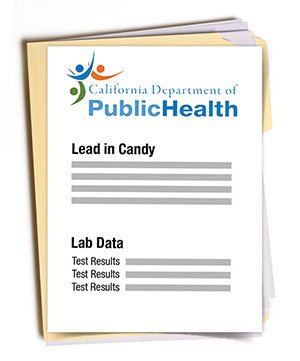 The I-Team took the
2012 informational poster
and the
California Health Department's 2016 warning poster
and went shopping. We found many of the candies are available in local ethnic groceries and at big box stores.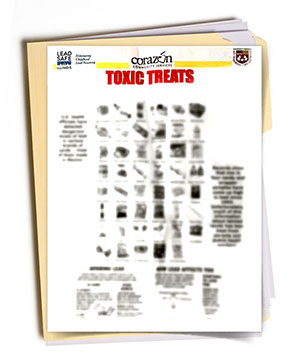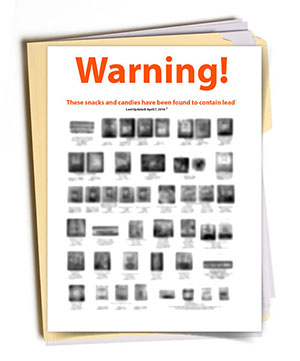 For example, the I-Team bought Ginbis Dream Animals butter flavor biscuits and Regent cheese ring. Both tested positive for lead by the California agency in 2016. Regent told the I-Team they consider that level "not detectable" because it falls just below the FDA's guidelines.
Most of the candy found to have lead by California's Department of Public Health can also be bought online, including through popular retailer Amazon.
"I'm not surprised, I'm concerned. Any where there is access for any agent that could be of harm to a child or an adult is something that concerns us," Mason said.
The Cook County Health Department does not have jurisdiction at the local level to pull the products in question, but consumers can alert the FDA which can investigate. Parents should monitor the candies their children are eating.
"Be aware and stop giving them to your kids," Molina said.
And whether it's candy, paint or water, the Health Department can help families figure out the potential source of a lead poisoning.
"The only way to find out if a child is lead poisoned is that they have to get a blood test. And they can get that blood test from any of their pediatricians any doctor can order a blood test to see if a child has elevated lead levels," Mason said.
Having your child tested for lead is your best defense. By the time you see symptoms in a child they may already be poisoned.
The FDA has an ongoing monitoring program for Mexican candy at the border and detains candy with potentially harmful levels of lead. If you think you've encountered tainted treats, contact your local FDA website.
EXTRA RESOURCES
-
CLICK HERE
for the FDA's web-based reporting form, which can be completed online or printed out and mailed
-
CLICK HERE
for the California Department of Health's 2016 warning flier
-
CLICK HERE
for Loyola University's 2012 flyer
-
CLICK HERE
for the California Department of Public Health lab results
-
CLICK HERE
for the FDA import alerts