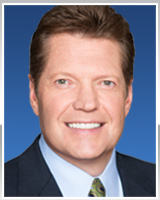 Alan Krashesky has reported Chicago's major news stories for more than 30 years.

The veteran news anchor and reporter is the co-anchor of ABC 7's top-rated 5 p.m. weekday news, alongside Cheryl Burton, the top-rated 6 p.m. weekday news, alongside Kathy Brock, a position he has held since March 1998. In May of 2016 Alan also became co-anchor of the station's top rated 10 p.m. newscast alongside Kathy Brock. Krashesky also hosts "NewsViews," the political and current affairs segment featured on ABC 7's Sunday Morning News.

Krashesky is well-known and respected for both his news anchoring and news reporting. He previously co-anchored ABC 7's 5 p.m. weekday newscast (1994-98) and its morning newscasts (1989-94). In fact, he was the first anchor of ABC 7's weekday morning news program. Every newscast he has anchored has consistently been rated No. 1 in the Chicago market. He joined ABC 7 as a general assignment reporter in 1982.

Krashesky's reporting in Chicago and abroad has earned high praise. He is considered one of the top reporters in the market to cover major international stories, and has been lauded in particular, for his coverage of the Roman Catholic Church. Chicagoans will recall his in-depth coverage of the election of Pope Francis as well as the historic resignation of Pope Benedict XVI. He covered the death of Pope John Paul II and the election of Pope Benedict XVI in 2005, as well as the beatification of Pope John Paul II in 2011. His local
reporting has earned a number of Chicago Midwest Emmy Awards. Earlier in his career, Krashesky served as a news reporter and weathercaster for KTBC-TV in Austin, TX (1982). Prior to his work at KTBC, he was a news reporter, weathercaster and weekend sports anchor at WBNG-TV in Binghamton, NY (1981).

Krashesky gained his first broadcasting experience in college, when he was a news anchor on WICB-FM radio in Ithaca, N.Y (1979-81).
In addition to his career accomplishments, Krashesky has a long and outstanding history of volunteering his personal time to community service. He serves as a mentor for students interested in broadcast journalism and is a local spokesperson for Alzheimer's disease. He is also a member of the Chicago Midwest Chapter of the National Academy of Television Arts and Sciences and the Chicago Headline Club Chapter of the Society of Professional Journalists.

Krashesky was born in Philadelphia, PA, but attended the Milton Hershey School in Hershey, PA, a residential school for children with financial and social need. The school honored him as Alumnus of the Year in 2005. He graduated with honors from Ithaca College in Ithaca, NY with a B.S. in Communications Management in 1981.

He and his wife have three children.
---