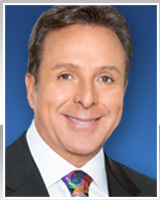 Mark Giangreco is the ABC 7 Chicago sports director and primary sports anchor/reporter for the Number One rated 5 p.m. and 10 p.m. newscasts. Giangreco has earned a reputation for being a sports anchor that even non-sports fans enjoy watching, delivering sports with humor, wit and an interesting spin on the day's sports news. He joined ABC 7 Chicago in 1994.

Giangreco came to ABC 7 from Chicago's WMAQ-TV, where he was the station's sports director, sports anchor/reporter (1983-94) and the weekend anchor/reporter (1982-83).

Previously, Giangreco worked at WLKY-TV in Louisville, KY., where he was sports anchor and sports director (1978-82). Before this, he served as weekend sports anchor and reporter at WDTN-TV in Dayton, OH (1976-77).

Giangreco's broadcasting career began during his college years when he joined WING-AM radio in Dayton as a news and sports reporter in 1972.

Giangreco has been honored with the prestigious Iris Award from the National Association of Television Program Executives, five Emmys, two Peter Lisagor Awards and two Associated Press Awards for "Best Sportscast." Giangreco currently serves as honorary chairman of the Ronald McDonald House fundraising efforts. In 1996, the Chicago Father's Day Council named him "Father of the Year," and in 1995, he won the Dante Award from the Joint Civic Committee of Italian Americans and the Justinian Society of Italian Lawyers Award for journalism. Giangreco received the 1982 Louisville Journalism Award for his excellence in sports reporting. Most recently, he was honored with the 2017 Illinois Sportscaster of the Year Award.

Giangreco's hobbies include hockey, classic cars and drawing.

Giangreco earned a B.A. in Communications from the University of Dayton in 1974. He lives in Chicago and has three sons.

Find him on Facebook
---
Archive
In this week's "Waddle's World," ABC7 sports reporter Mark Giangreco and former Chicago Bears player Tom Waddle talked about Sunday's Chicago Bears' 24-10 win over the New York Jets.
Follow the Chicago Cubs and our ABC7 Chicago Sports team as the city celebrates its championship!
Mark and Jerry test their skills in identifying between concept and production cars at the Chicago Auto Show.