CHICAGO (WLS) -- Arthur Brown, 66, was freed from prison after 29 years after his conviction was tossed out by a judge. He walked out of Cook County Jail shortly after 6 p.m. Tuesday evening.
WATCH: Arthur Brown walks out of Cook County Jail
"I don't have time to be bitter because I'm thinking about my family," Brown said upon his release.
Brown expressed only gratitude on his first night of freedom. He was greeted by relatives and his attorneys with tears and hugs, and feelings of vindication.
"Feels like a bird in the sky to be free. And I have to pick up my pieces of my life and put them together again," he said. "I knew the day would come and the truth would come out."
Brown said his future plans are still up in the air, but tonight he just wanted a great meal. He headed out with his family and attorneys for a champagne and seafood dinner.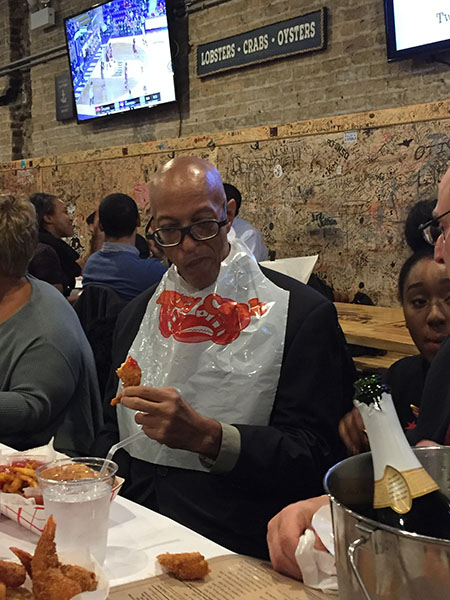 "The only thing you can do is believe in yourself and keep marching forward," Brown said.
Brown was 37 in 1988 when he was charged with arson and double murder following a suspicious fire on the South Side that killed two people.
Brown, who did maintenance and construction work in the neighborhood, did work on the building that caught fire but maintained he was innocent and claimed he was beaten into a confession. When prosecutors wanted the death penalty, Brown collapsed in court.
Years later another man confessed to the arson, and Brown was granted a second trial but the jury did not believe the other man's testimony.
"It's a perversion of the justice system. And it's a script that unfortunately is played out all too often: a black man beaten into confessing, tossed into jail for decades, and once the system gets off the rails it's almost impossible to get it back on the rails," said Ron Safer, Brown's attorney.
In October 2017, a judge tossed out that second conviction citing false arguments that were made by prosecutors.
Tuesday morning the Cook County State's Attorney said it would not retry Brown, and the charges were dropped.
In a statement the Cook County State's Attorney's Office said, "After the case was brought to the attention of the executive staff, the Cook County State's Attorney's Office determined there were significant evidentiary issues that raised deep concerns about the fairness of Mr. Brown's conviction. Therefore, the State's Attorney's Office determined that dropping charges was in the interest of justice."