CHICAGO (WLS) -- Democratic presidential candidate Bernie Sanders was in Chicago Wednesday as part of his campaign swing through the Midwest.
During an evening appearance at the University of Illinois-Chicago, Sanders -- flanked by Black and Latino supports -- talked about police reform.
"We need real police reform and the truth is that lethal force should be the last option, not the first option," he said.
Polls show Sanders closing the gap in the democratic presidential race.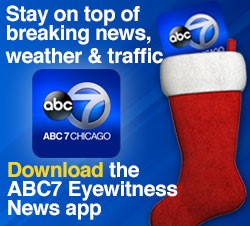 Sanders trails Hillary Clinton in Iowa, which is where the first presidential caucus will be held in about seven weeks. But he's ahead in New Hampshire, which is much closer to his home state of Vermont. While much of the national conversation seems to have focused on Clinton and Donald Trump, Sanders is trying to make his mark.
"I think Bernie Sanders is tapping into folks who are very frustrated by the establishment politics. And Hillary Clinton represents that front and center," said Laura Washington, an ABC7 political consultant.
Earlier, the Vermont senator attended a community event at a Little Village restaurant hosted by former state Senator Jesus Chuy Garcia, who ran for mayor and is a long-time progressive. He talked about jobs and immigration.
Washington said a Garcia endorsement would help Sanders make inroads with the potential voters he is trying to attract.
"He wants to tap into the anger about police brutality, about taxes, about jobs and Chicago is a good place for him to do that," Washington said.
Sanders is no stranger to Chicago despite being an East Coast native. He spent his formative college years at the University of Chicago in Hyde Park. Although, many consider the Chicago area to be Clinton country because she grew up in the suburban Park Ridge.