CHICAGO (WLS) -- On this Christmas holiday, Chicago Archbishop Blase Cupich said we all face dark moments and difficulties, but we should never let the darkness win.
Instead of Holy Name Cathedral, Archbishop Cupich started Friday morning celebrating Christmas Mass at the Cook County Jail, saying these inmates are like the shepherds of Bethlehem who were on the periphery in the darkness, when they heard about Christ's birth.
"No one is out on the periphery," he said. "No one is left from the center, that we are all included in this important celebration of Christmas."
During Friday's bilingual celebration the archbishop had a message of hope, even during the hardest times.
"God is in the darkness with us," he said "We're not alone. That's so very important for us to listen to, not just for you who are in the jail, but for each one of us."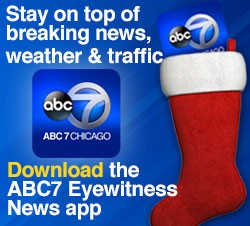 That offering each other the sign of peace can reach beyond that in 2016, in what Pope Francis calls the Jubilee of Mercy.
"What he means by that is, let's cut each other some slack, give each other a break. We all need mercy," Cupich said.
A chance to reach out, not just with handshake, but sometimes a hug, whether you are a man of the cloth or not.
"Each one of us has the power to have a positive influence on each other's life," he said.
After Mass, Archbishop Cupich spent time with the inmates and took a tour of the kitchen, where many work, and enjoyed a meal they prepared.