CHICAGO (WLS) -- Plunging temperatures and dangerous wind chills have prompted the National Weather Service to issue an advisory for the Chicago area.
The NWS issued a Wind Chill Advisory for the Chicago area at 9 p.m. Wednesday and expiring at 10 a.m. Thursday. Wind chills could drop down 20 to 30 below zero Wednesday night.
Many Chicago area schools have cancelled classes for Thursday. For a full list,
click here
.
Chicago Public Schools officials said they are closely monitoring the situation but are expecting schools to be open on Thursday.
"Our highest priority is the safety of students and staff, and we are closely monitoring the weather to help ensure that holding class is in the best interest of students. Based on the current forecast, school will be in session tomorrow, and multiple CPS departments are working to ensure schools are prepared for a safe and successful school day," said CPS spokesman Michael Passman.
In the far south suburbs, drivers battled blowing snow and black ice, with multiple spinouts along I-57 near Monee.
"Cold. Real cold. A lot of spinouts, and you've got to be careful if you're going to be out," said truck driver James Salinas.
In the extreme conditions, Jason Blevins is there to help. He and others from the Illinois Tollway are on 24-hour watch during this cold snap, responding to calls to the tollway's help line, *999.
"We can do tire changes, battery boosts. We can provide people with fuel if they need it," Blevins said.
On the eastbound Jane Addams, Blevins encountered a driver with a blown tire. In less than five minutes, he had the spare on with the driver soon on his way.
This winter so far has been rough on commuters.
"Usually, things get worse the more consecutive days of cold we get. Tomorrow, we'll probably have a higher volume of calls just based on even colder temperatures than today," Blevins said.
Drivers also had trouble along area expressways Wednesday morning, with motorists having trouble on I-55 near Cass Avenue and on the I-55 ramp to County Line road.
Temperatures in the area hovered in the double digits before promising to plunge down close to zero in the next couple days, making Wednesday one of the coldest days of the season so far.
"I have a Patagonia jacket that has two layers, a down layer and then this outer shell. The jeans I have on are not exactly as warm as I would like them, maybe they should be fleece lined or something," said Ali Payne.
But it was just plain miserable for Marc Anthony, who is town from his native San Diego for a business meeting.
"I'd rather be home where it's 70 on the beach," he said.
Meanwhile, some simply embraced the season, heading out for a run along the lakefront.
"The first five minutes are very hard mainly because of the wind, not the cold itself, but after 5 or 10 minutes, you're good," said runner Julien Boussu.
In light of the bitter cold, the city reminded residents that city services are available to them. Call 311, the city's around-the-clock support line, to answer questions about warming centers or to request a well-being check.
Doctors said to keep all skin covered to avoid frostbite and hypothermia. Several different layers is key. Doctors said they see a lot of hand injuries when it gets this cold.
Drivers also had trouble along area expressways. The arctic cold did not agree with their vehicles. Motorists had trouble on I-55 near Cass Avenue and on the I-55 ramp to County Line road early Wednesday morning.
Cold a health risk for people, dogs
Doctors say the extreme temperatures and wind chills can strain the body, particularly infants, the elderly and people who already suffer from medical conditions.
In the frigid cold, layers of clothes are the body's only protection.
"If you are underprepared and not well dressed, it can be a matter of minutes," said Dr. Sindhu Kurian, a family physician at Northwestern Memorial Hospital.
This kind of single digit or subzero cold can put the body under the same kind of stress as extreme heat and it can be painful.
"It can cause dizziness, chest pains, heart attack, strokes," said Dr. Kurian. "The cold can shut down your body."
It's no different for dogs.
"He bucks when he has his coat on. He has salt in his paws," said Brian Pollack who was out walking with his dog.
Of course that's also a matter of size and natural fur protection. But subzero windchills are not sustainable for dogs -- or the people walking them.
"If you're too cold, they're probably too cold as well," said Dr. Elizabeth Roy, a veterinarian.
Tricia Randall said she would be out, "probably about 20 minutes max and then we go back."
That's about as long as doctors, for dogs and humans, recommend staying out before heading into comfort of a warm home.
Doctors at Northwestern said they have treated numerous cases of frostbite. They said it starts with redness, but if it's not treated, it can progress quickly from there.
Cold weather disrupts Metra morning commute
It was business as usual for Metra riders heading home during rush hour Wednesday evening, but it was a different story in the morning.
Thousands of commuters were late to work because of big delays on some Metra lines. The extreme cold hampered train travel from the suburbs into the city. Metra is still investigating the cause of those problems.
Kyle Wiersbe was one of the thousands of Metra BNSF riders who were forced to wait on the platform in the southwest suburbs in single-digit temperatures.
"It's just been a crazy morning. We were standing out in the cold in Aurora, waiting for the train to come in. All of us were freezing," he said.
Wiersbe's train from Aurora was delayed nearly 30 minutes due to mechanical problems caused by the dangerously cold weather.
"Once we got closer to the station, they announced all trains were running 20-25 min behind. Doesn't help when you're almost here already, you know?" said Pat Johnston, another commuter.
As he rushed to get to work on time, Wiersbe left a package of his coworkers' Christmas presents on the train.
"I know it's my bad for not grabbing them on the way out. But hey, this morning's been crazy!" he said.
DOWNLOAD THE APP:
ABC7 Chicago Weather App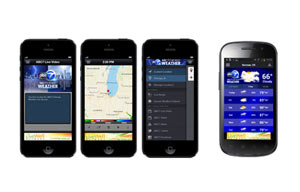 The morning commute was frustrating, but riders said they were bundled up enough to handle waiting - despite wind chills that made it feel like 0 to 15 degrees below zero.
"I've got two pants, two sweaters, two headbands, a pair of gloves," said Debbie Cotton, a Metra commuter.
"Make sure you dry your hair after the shower. Wear wool pants, layers of thermal underwear. I've got the down coat on. I've got the fur hat," said Steve Stompanato, another commuter.
Wednesday marks a second day of Metra problems. There were issues with switches on Tuesday, despite gas heaters going full force to keep them warm.
HOMELESS SHELTERS TRY TO PROVIDE RELIEF
This extreme cold was especially dangerous for people living on the streets. The homeless spent time in shelters across the city Wednesday to get out of the cold.
Those who run the Pacific Garden Mission in Chicago's South Loop said they expect to see roughly 1,200 men, women and children by Wednesday night.
The 24-hour facility saw an increase in people looking for a place to stay since the arctic weather moved into the Chicago area.
According to the Chicago Coalition for the Homeless, there are tens of thousands of homeless living in the Chicago area and not enough that to accommodate them.
Pacific Garden Mission Pastor Philip Kwiatkowski said Wednesday night all of their beds will most likely be full as temperatures become life-threatening for some.
"The cold for the homeless is really a crisis. If you think about navigating life on the streets, when the weather is normal, it's difficult. But here it's life and death," Kwiatkowski said.
"The shelter on up north on Sheridan Avenue, they're going to shut that down two days before Christmas. You got over 100 going to be out in the cold. That's wrong," said Johnny Sims, a homeless man living in Chicago.
or those who have decided to tough out the weather, outreach teams from several local organizations hit the streets hoping to help those less fortunate.
"We check and make sure that someone isn't experiencing the mental and psychological symptoms of hypothermia and that they are staying safe in this environment," said Lauren Phillips of Threshold Homeless Outreach.
People who work at the mission tried to do what they can to provide immediate relief from the cold. The mission also has outreach programs where they go out and try to convince those living on the streets to come in out of the cold. Sometimes they are successful, sometimes they are not.
They said it is important to get the homeless off the street and into a warm place. It is a matter of life and death.