CHICAGO (WLS) -- The holiday rush kicked into high-gear Friday ahead of the Christmas weekend and the start of Hanukkah with millions traveling for the holiday and last-minute shoppers scrambling for gifts.
A mix of snow and rain fell Friday afternoon and evening in the Chicago area. The widespread precipitation, which will wind down around midnight, has impacted evening commuting. The most snow fell in the northern suburbs, while further south primarily saw rain. Lake Geneva got 1.9 inches of snow, Harvard had .5 and Gurnee got 1 inch.
Travelers will hit the roads, air and rails on one of the busiest travel days of the year.
At about 9 p.m., O'Hare International Airport reported 20 cancellations and a less than 15-minute delay. Midway Airport reported one cancellation and a less than 15-minute delay.
Drivers will find that gas prices across Illinois were up Friday more than 25 cents compared to last year.
Meanwhile, Amtrak expects another month of record ridership this month.
"It's not crowded at all. Very comfortable. We napped. A lot easier than driving," said Jonathan Ahlarand, who was traveling via train.
WEEKEND FORECAST
Saturday is not expected to bring weather problems. Christmas Day on Sunday will bring fog and drizzle, possibly freezing drizzle, according to ABC7 Meteorologist Phil Schwarz.
Doppler 7 MAX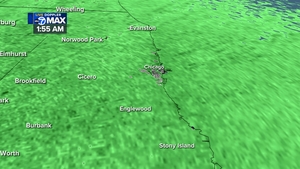 CLICK HERE to see the latest radar view from LIVE Doppler 7 MAXCLICK HERE for the latest 7-day outlook from the First Alert Weather Team:LAST-MINUTE SHOPPERS SCRAMBLE
With less than 48 hours until Christmas morning, last-minute shoppers on Friday faced crowded stores, long checkout lines, and - in some cases - split-second decisions.
After 18 years together, Maurice and Secrett Daniels, were shopping together on Friday, which is their easiest way to shop for each other.
At a Kohl's in the city's Bucktown neighborhood, Rebecca McDonagh was shopping for Cubs World Series gear with her children. The gear is for grandparents, who live in North Carolina.
But how will the gifts get to North Carolina by Christmas? "Well, they won't. Either overnight or take a picture and send," McDonagh said.
Procrastinators either stay up all night for drop off gifts at some place like Foursided Card & Gift in the Lakeview neighborhood. Four Sided wraps gifts for between $3 and $5.
"Some people have been bringing things from other stores and other locations," said Lindsey Dantes, of Foursided. "It's $3 for something bought in store, $5 for something bought from outside of the store."
JANE BYRNE INTERCHANGE OPENS
Several roadways were already backed-up Friday afternoon, but two major construction project have ended just in time for the holidays. Both the Jane Byrne Interchange and the Taylor Street Bridge over the Dan Ryan Expressway were both open on Friday, according to the Illinois Department of Transportation.
The $18 million Jane Byrne project included the reconstruction and widening of the bridge to two lanes in each direction with sidewalks on both sides, according to IDOT. New traffic signals, lighting and pedestrian features were also part of the construction.
Also included in the project was the new flyover bridge linking the inbound Dan Ryan Expressway to the outbound Eisenhower Expressway, which opened last weekend, IDOT said. The flyover ramp will operate as a single-lane ramp until the second lane can open after the work is complete in summer 2018. Eventually, two lanes with shoulders will carry traffic about a mile over the entire interchange beginning south of Roosevelt Road to the outbound Eisenhower near Morgan Street.
HOLIDAY TRAVEL
Friday will be one of the busiest travel days of the year. Rain and snow expected to develop in the Chicago area in the afternoon may impact flights and traffic on the road.
Across the country, more than 103 million Americans are expected to travel this holiday season. That's a 1.5 percent increase compared to last year.
Many people arrived at O'Hare International Airport hours ahead of when their flights were scheduled to depart, to make sure they had enough time.
"We are here really early. Our flight doesn't leave for another two hours, three almost. Just to make sure we got through all of security without any problems," said Francine Lasky, a passenger.
Aviation experts said more than 200,000 people are expected to fly out of O'Hare and nearly 70,000 will leave out of Midway International Airport. Some passengers, like Myrna Taleon, decided to enroll in TSA PreCheck to avoid long lines.
AAA said in Illinois, about 4.9 million people plan to drive to their holiday destination.
"Fortunately I have this little gadget on my car that keeps the distance between the two cars for you. I always found that's the best in heavy traffic," said Ryan Stark, a holiday traveler.
The Sun-Times Media Wire contributed to this report.