Winter storm warnings are in effect for most of the Chicago area Monday due to expected ice, part of a
larger winter storm system bringing severe weather to much of the central South and Midwest
.
The weather is part of the large winter storm system that's wreaked havoc in Texas and is moving northward.
Storm warnings for De Kalb, Kane, Lake and McHenry counties are in effect until 6 p.m. Monday; for Cook County until 1 p.m. Monday; and for DuPage, Grundy and Will counties until 1 p.m. Monday. All storm warnings start at 6 a.m.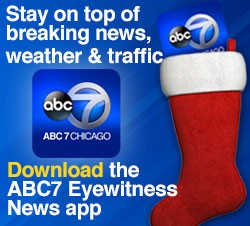 ABC7 meteorologist Phil Schwarz says the air in the Chicago area is not cold enough for snow so we are expecting freezing rain and ice instead.
The lakeside areas of Cook and Lake counties are also under a high winds warning, as much stronger winds are expected Monday. There is a low risk for snow with no likely accumulation and sleet from mid to late morning.
Most of the ice in Chicago is expected between 7 a.m. and 11 a.m., with relatively low icing thanks to a relatively warm Lake Michigan for this time of year. Most suburbs can expect moderate icing between 6 a.m. and 2 p.m. For west and northwest suburbs can expect significant icing between 7 a.m. and 5 p.m.
The Chicago Department of Streets and Sanitation says it will have about 50 drivers out overnight to monitor the anticipated store. Those crews will clear streets if needed and work to keep roads safe and passable during the morning rush hour. The city said it is ready to adjust resources if necessary.
ComEd released a statement saying it has increased crew staffing and is preparing equipment for a quick response time in the event of any power outages.
Temperatures are expected to rise above freezing by Monday afternoon.
Get the full ABC7 First Alert Weather Forecast