CHICAGO (WLS) -- Severe storms and several tornadoes rolled through the Chicago area Wednesday night, leaving a path of damage and debris in their wake.
The hardest-hit areas were in the west and south suburbs. Several tornado touchdowns have been confirmed near Mendota, La Moille, northern LaSalle County and Pontiac, Ill. A tornado watch for much of the Chicago area has been canceled, though it continues for half a dozen counties in Illinois and Indiana.
A Severe Thunderstorm Warning is in effect for Livingston and Kankakee counties until 12:45 a.m.A Tornado Watch remains in effect for Grundy, Kankakee, LaSalle and Livingston counties in Illinois, and Jasper and Newton counties in Indiana until 1 a.m.
So far, the worst damage appears to be in Pontiac, where a tornado appeared to cut through town up Route 116 right off of I-55.
James Joseph, director of the Illinois Emergency Management Agency, says he has received reports of damage to a mobile home park, gas stations and some other businesses, including a Dunkin Donuts. Joseph says some extractions were needed from the mobile homes and several standing homes, and some people have been transported to hospitals with minor injuries.
There was debris in the road and power lines down across I-55 as well. Significant portions of Pontiac, residential and commercial, are without power, and several businesses are affected by gas leaks. Joseph asked homeowners and business owners alike to heed the warnings from emergency responders and officials for their own safety as downed power lines and potential gas leaks are assessed.
"Even though the storm has passed, it doesn't mean the risk is not there," he said.
On Rte. 116, an awning at a BP gas station was knocked onto its side and into a semi truck, also blown onto its side. Nearby, an oil tanker suffered the same damage. Across the street, a Shell gas station is being used by emergency responders as a command center and staging site.
Reports are preliminary and full damage assessment will likely have to wait until daylight.
Two guests staying at the Quality Inn across from one damaged gas station in Pontiac said the scene was chaos.
"Stuff was flying everywhere. The truck almost tipped over right behind the parking lot. I go to run in the door and it slammed shut right in front of me. And my buddy Greg here, was trying kick down the door to let me in," said one eyewitness, Nick.
The two men said multiple semis tipped over at the gas station. They said one fuel tanker had a driver in it, who was uninjured. They said authorities were keeping people away from the semis at first.
"You never know what's in there, supposedly it was empty. But, you never know. Anything could happen, especially when you've got the public around smoking," Nick said.
In Chicago, fans attending the Chile vs. Colombia Copa America match at Soldier Field
were told to take cover and shelter in place in the stadium concourse area and instructed not to leave the stadium around 8:15 p.m. The game resumed at 10:25 p.m.
If you are under threat from a tornado should move to the lowest level of your home and to an interior room such as a bathroom or closet, stay away from windows, cover your head. If you are in a mobile home seek shelter in a sturdy building immediately.
ComEd says they have 15,000 customers without power, most in the southern region of the Chicago area. ComEd also has reports of power outages in Pontiac, where they have heard of a tornado touchdown area.
PHOTOS: SEVERE WEATHER IN CHICAGO AREASTORM DAMAGE IN SOUTH AND WEST SUBURBS
There are reports of storm damage across the counties affected by the severe weather, including debris and downed power lines across roads, especially in the western suburbs.
The Seneca Fire Department has confirmed a building collapsed at East 29th Road, just north of Seneca, Ill. The building may be a home, and there were reportedly residents inside the home, though there were not yet reports of injuries Wednesday night. Roads are blocked off and checkpoints are in place for drivers.
Jeff Maierhofer's wife and two children were in the basement of their home with seven neighbors when the storm hit. He said there is damage to his house, his farm, and power lines downed around the structure preventing him from reaching it. Nobody was injured, but the extent of the damage will likely not be known until daylight.
The seven neighbors live in mobile homes in a nearby campground, and Maierhofer said his family has offered their basement any time there is weather like this. On the historic farm, which dates back to the 1800s, there he says there is extensive damage to sheds, windmills and grain bins.
"We lost a lot of history tonight," Maierhofer says.
He also said there is apparent damage to neighbors' houses as well, but no reports of injuries. He said the storm was described by his neighbors as a tornado.
Seneca fire officials say two farms were damaged but there are no reports of injuries, and that the tornado missed a large campground by half a mile.
In Earlville, lightning continued to persist after heavy rain and strong winds moved through, and there was some moderate storm damage, including a collapsed shed at a farm that was used to store machinery. In Mendota, drivers took cover at gas stations after tornado sirens wailed.
The Paw Paw, Ill., Fire Department says the town is currently without power, but there are no reports of injuries or specific reports of damage. Fire officials say there may been a tornado touchdown a few miles outside town.
Police in northwest suburban Palatine say there is heavy flooding due to storms near downtown and 320 N Northwest Highway, causing cars to float.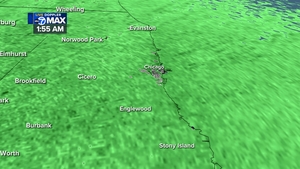 CLICK HERE to see the latest radar view from LIVE Doppler 7 MAX