CHICAGO (WLS) -- Archbishop Cupich will lead the midnight Mass at Holy Name Cathedral as the city of Chicago seeks healing after weeks of turmoil.
There are raised voices on this holy night for Christians. At Old St. Pat's, one of the city's oldest churches, they are spreading a message of peace and joy.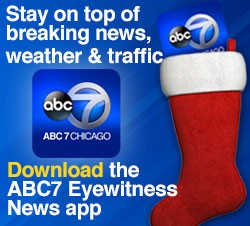 At Holy Name Cathedral, worshipers reflected on what Christmas means to them.
"Lots of love and my family, and wishing peace to all the people that don't get to be with their family," says Tracy Smith.
"Gratitude. A lot of gratitude for my family, for our beautiful world," says Luisa Badaracco.
Before church,
many spent the day shopping
. The scene at the south loop target on this Christmas Eve was best described as "procrastinator central."
On the Mag Mile, eleventh-hour shoppers faced a different challenge as
demonstrators protested the police-involved shooting death of Laquan McDonald
. They blocked Michigan Avenue and the entrances to some stores.
The five hour demonstration was mostly peaceful. Another march is planned for New Year's Day.