Saturday did not feel like December as temperatures reached the mid-50s in the Chicago area. But very cold weather is coming.
Temps reached 54 degrees at O'Hare Airport, Midway Airport and Naperville, and even up to 57 degrees in Gary and Merrillville in northwest Indiana.
Sunshine and even temperatures 3 to 4 degrees warmer, possibly even into the 60s, are expected on Sunday, despite low 30s in the early morning, said ABC7 meteorologist Phil Schwarz.
However, just to the west is a cold front, which will arrive early Tuesday and continue into the week. Temperatures are slated to drop back into the 20s.
But on Saturday, folks were not thinking about the week ahead as they took advantage of the unseasonably mild weather.
Nobody was complaining at Millennium Park ice skating rink, Christkindlmarkt in Daley Plaza in Chicago or Brookfield Zoo's 36th annual Holiday Magic lights festival.
Doppler 7 MAX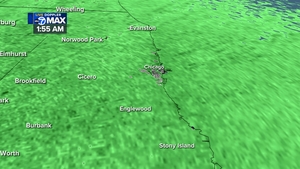 CLICK HERE to see the latest radar view from LIVE Doppler 7 MAX