NEW YORK --
The women are all moved into "Bachelor Mansion" and it was time for the games to begin! Chris Harrison gathered all of the women up to explain how this week would work. There would be two group dates and 1 one-on-one date. There are currently 22 women left. The first date card said, "Corrine, Vanessa, Sarah, Alexis, Haley, Lacey, Brittany, Jasmine G., Raven, Danielle L, Taylor, and Elizabeth W. always a bridesmaid..." The women streamed out of the house and into three waiting blue convertibles.
The ladies drove their convertibles over to another location for a photo shoot where Nick was waiting. Nick thought it was funny to actually meet Alexis in normal clothes and not a shark (dolphin?) outfit. He explained to the group that they would be taking wedding photos for their first date with a renowned photographer. They all got to dress up in different style dresses that were pretty silly, like 80's style, Adam and Eve, and shotgun. Anyone who didn't get a bridal gown would be photographed as a bridesmaid. That made some of the women super disappointed. They got their hair and makeup professionally done.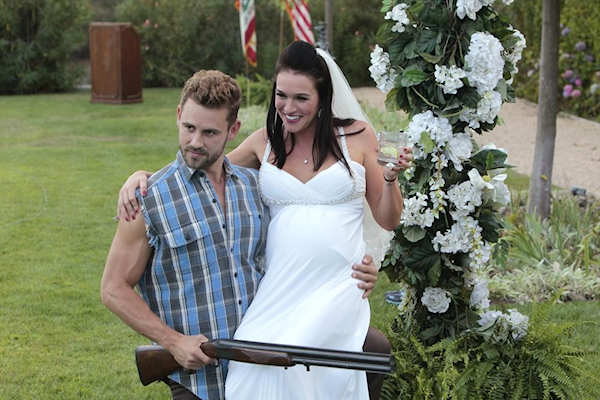 Alexis had to dress up as the pregnant shotgun wedding bride! This girl can't catch a break. Did she anger a producer or something?! Meantime, Corrine just kept saying I'm going to kiss Nick again. She really wants to make everyone irritated! But then Brittany entered in the Adam and Eve outfit and it was literally just bottoms...she's topless. Take that Corrine!
The photoshoot went really well with the ladies and they all seemed to have a great time. During the 80's shoot, Jasmine flat out kissed him! It was shocking to all of the other ladies. Nick took full advantage of kissing all of the brides and some of the bridesmaids too! Can you say, awkward?! The photographer convinced him and Taylor to kiss and she didn't even plan on it! That guy is good, very convincing.
I love how back at the house, Liz is like, "Oh I didn't kiss Nick the other night." Meantime, she totally slept with him a few months ago. Just wait until they all find out!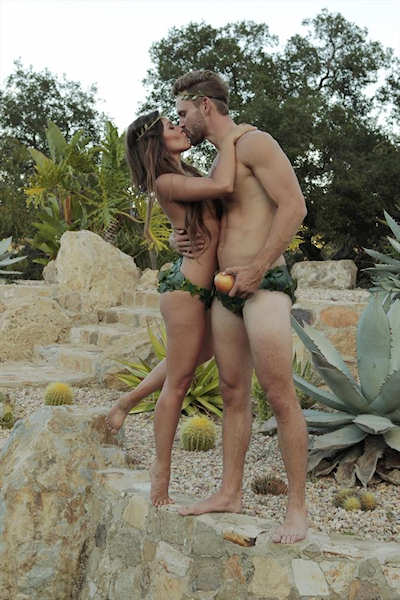 Back on the group date, Nick stripped down into his Adam and Eve outfit. Brittany looked amazing; they ate an apple together and of course did some kissing. Corrine saw that as a challenge to one up her. So Corrine took Nick's shirt off in the pool and then took her top off as well. The other ladies were not amused.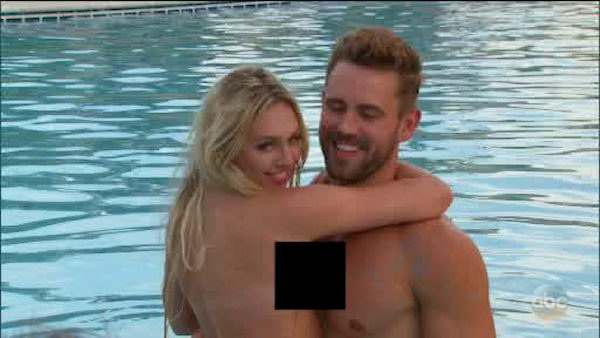 She even had Nick hold her breasts at one point, it was just way too much for some of the women to handle, some couldn't even watch! Then to all of the ladies (and America's) horror, Corrine won the date. So she would get some extra time with Nick. They got to do an extra photoshoot complete with a lot of kissing.
Later that evening, the group dates continued on, even though I think most just wish that train wreck Corrine would go home. So, of course she stole Nick away first as the other women gossiped about her behind her back. Nick told her that he loves how she takes the initiative and Corrine said that he's so calming. They made out a bit and Corrine says that she's falling for him already, although she didn't tell him that yet.
Nick took some time to talk with Raven and she told him that she actually caught her ex in the act of cheating on her with another woman. She walked in on them. Yikes. Nick said that despite his past, he's going to keep trying for love. Raven admitted she's attracted to jerks, only because they speak their mind. Nick said that he definitely speaks his mind, but doesn't think he's a jerk.
Another date card arrived back at the house. It read, "Danielle M. our relationship is about to take off." That's right ladies and gentlemen; she got the first one-on-one date! Liz thought she might so that they could talk out their "past" but apparently that's not enough to get some one-on-one time with "The Bachelor."
Corrine went off to steal some time away from other women on the group date, and the other girls decided they had to rally to keep her away from him. Taylor finally got some time with him and she admitted that her favorite part of the day was kissing him. Corrine had the audacity to steal him away for a third time. Nick should have said no, but he didn't. She said that she "didn't get to say goodnight" to him. Yuck. To her credit, Taylor came back and stole him back! Yeah! Corrine then called Taylor rude and said she feels directly targeted. All Taylor did was take him back! Corrine is obviously a little crazy. She pulled Taylor aside to talk about it and Taylor was just like, I wanted my time. Then she gives a speech to everyone about how you have to be there for yourself and how they should all remember that and how they are "there for Nick and that's it." Vanessa said, "That is some phony-ass speech that Corrine just gave." I love her.
Nick came by and picked up the date rose and gave it to CORRINE! Oh he seems like he is dumb as bricks, doesn't he? Let's give him the benefit of the doubt; he doesn't know how insane she is yet. He doesn't see everything we do. But still...Nick. Then she started talking about how she got the rose because she was "just Corrine." Barf.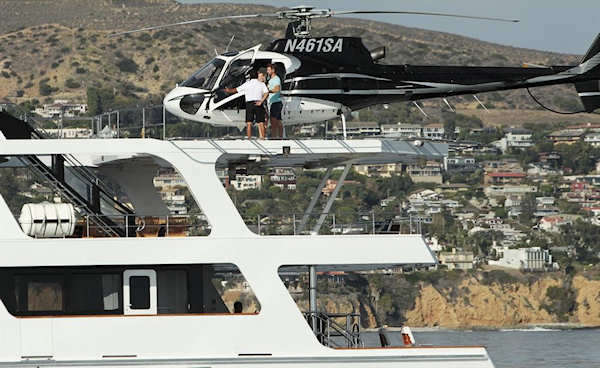 Nick and Danielle M. took off on a helicopter that landed on a yacht for their date and seemed to be off to a fantastic start.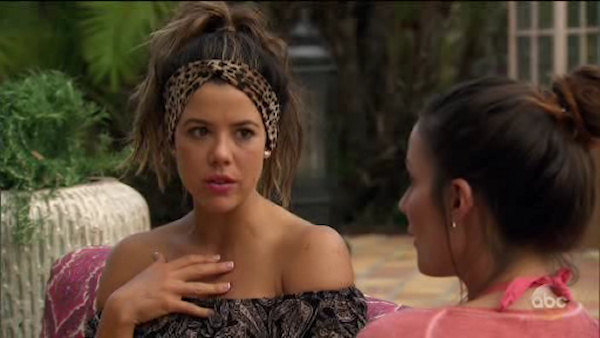 Meantime, back at the house Liz opened up to Christen about everything that happened between her and Nick at the wedding. Poor Christen was horrified that someone among them had already bedded Nick. I think if she could have put her fingers in her ears and said "La, la, la, la, la, la, I can't hear you!" She would have, but she's on TV so she can't.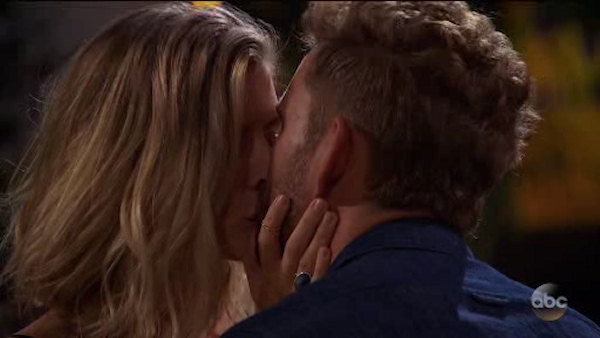 On the one-on-one they had a deep conversation about putting yourself out there to fall in love. Danielle told Nick that she was engaged five years ago and her fiance overdosed on drugs. She was the one who found him dead. They were engaged for just three months and she had no idea he had a problem and that he was an addict. She's always been insecure about telling people about that because she feels like her past relationships have ended after she reveals that part of her history. Nick said he admired her and with that, he offered her the date rose. She said, "Yes!" and they kissed! He said that he wants the kind of strength she has in a partner. He really likes her!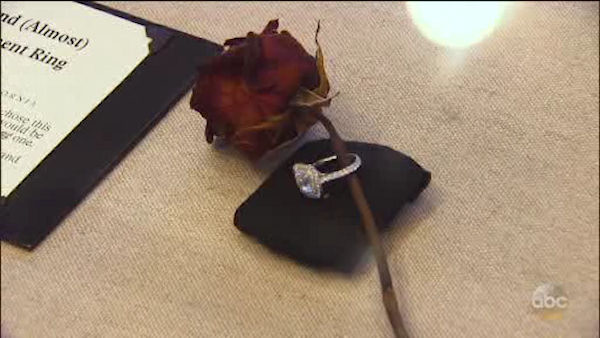 The final date card this week arrived and it read: "Christen, Josephine, Astrid, Jaime, Kristina, and Liz, We need to talk..." Let's see what happens on this crazy date! They traveled to the "Museum of Broken Relationships." That sounds a bit like an omen for Liz. Nick had the rose and engagement ring that he picked out for Kaitlyn inside the museum! How sad! It seems like he has taken it in stride and he said he now has a new hope for the future and knows what he wants.
Then they heard people screaming and it was a "couple" that was breaking up. It was a performance! Couples went up one-on-one and had to breakup in front of museum-goers. So then the ladies learned that they would have to perform with Nick. They all seemed to have a fun time interacting with Nick, although Josephine flat out slapped him across the face! It was pretty intense! Liz has felt like Nick has been avoiding her all day, so she felt this was her big chance. Christen couldn't believe that her breakup was real! It was so raw and intense that Nick didn't know what to say. Liz had to say, "That can be the end of it," and Nick just said, "Thank you," and the crowd applauded. I love how the host was like, "Thanks for coming everybody, enjoy the drama!"
The group then went to a nightclub which was rented out just for them. Jaime revealed to Nick that she's bisexual and the women all seemed to be oblivious to the "Liz situation." Just when Nick thought that was the case, Christen revealed that she knew. Nick asked her what specifically she knew, and Christen was honest. Nick admitted to it, but said that he thought that Liz wasn't into him. Nick was like, "oh crap" time to do some damage control!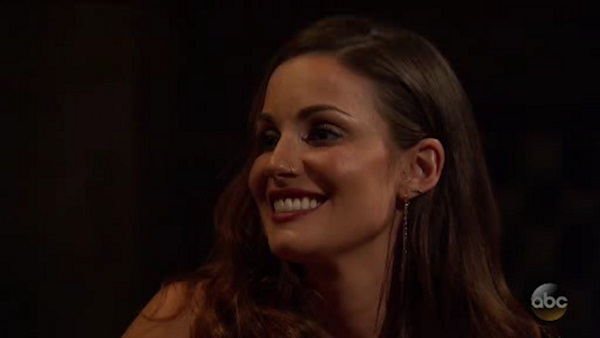 At last, Nick pulled Liz aside to see what her true intentions are. Liz told Nick that she had a private conversation with Christen and it was just her that she told. Nick said that he was pleasantly surprised by her arrival, but he wonders if she's really there for him since she had months to get his number and never did. Nick said that the more he talks to her, the less she makes sense. Ouch. He told Liz that they didn't have a future, and he thought it was best if he said goodbye right then and there.
Nick was so worried to tell the rest of the women about what happened between him and Liz. Nick told them all the truth. Next week, we get to see the fallout and it isn't pretty!