NEW YORK --
Inside "Bachelor Mansion" this week, Chris Harrison met up with the guys to drop off the first date card. It read, "Dean, Jack, Jonathan, Blake, Iggy, Kenny, Fred, Lucas (WAHBOOM), I'm looking for husband material." This would prove to be a very entertaining group date!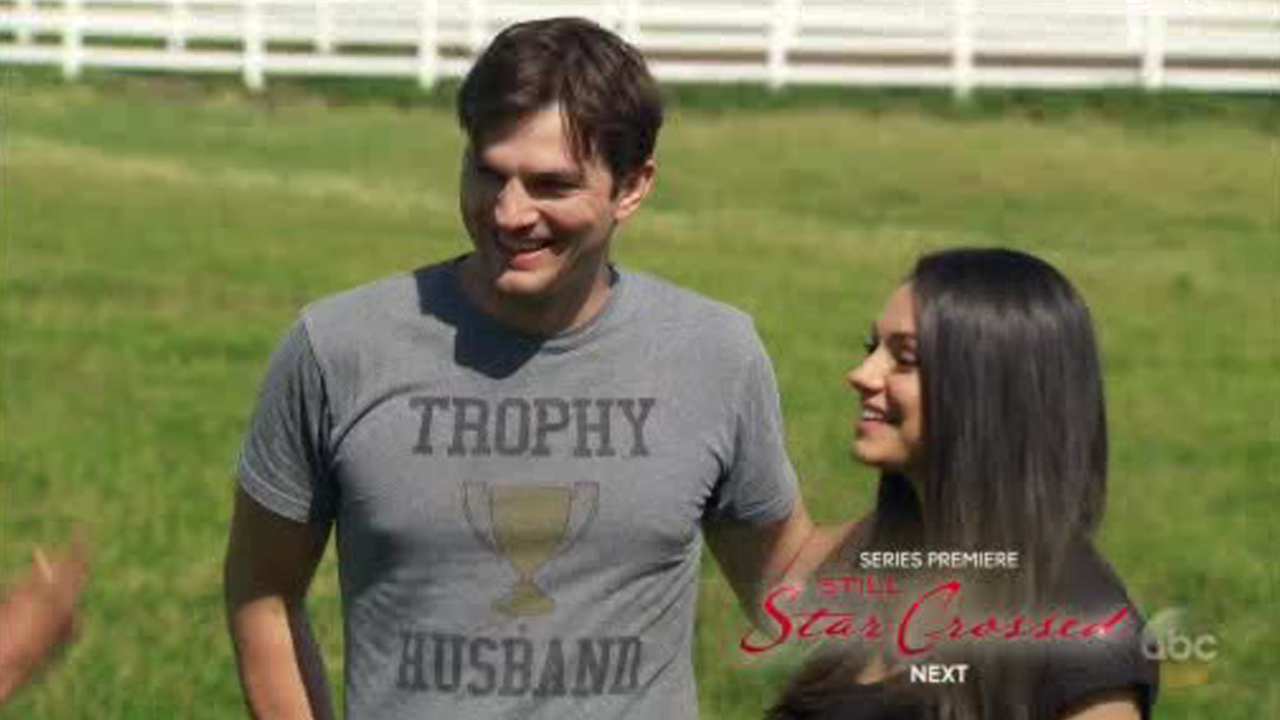 They guys headed off for a BBQ with Rachel and had a great time playing football and eating and drinking. But, there was more to this date. It was a husband material competition! Mila Kunis and Ashton Kutcher showed up to help Rachel. The Hollywood couple said that they have watched the show ever since Jared was on and people said he looked like Ashton! The obstacle course is all about taking care of babies and the house. They had to change babies, put them in a carrier, vacuum, get a ring out of a clogged sink, set the table, and get flowers for their lovely wife. Whaboom stiff-armed Kenny right at the finish! Kenny was so close, and probably should have won because he's experienced as a real father! The guys were completely shocked that Whaboom won! Even Ashton couldn't understand why Whaboom says Whaboom.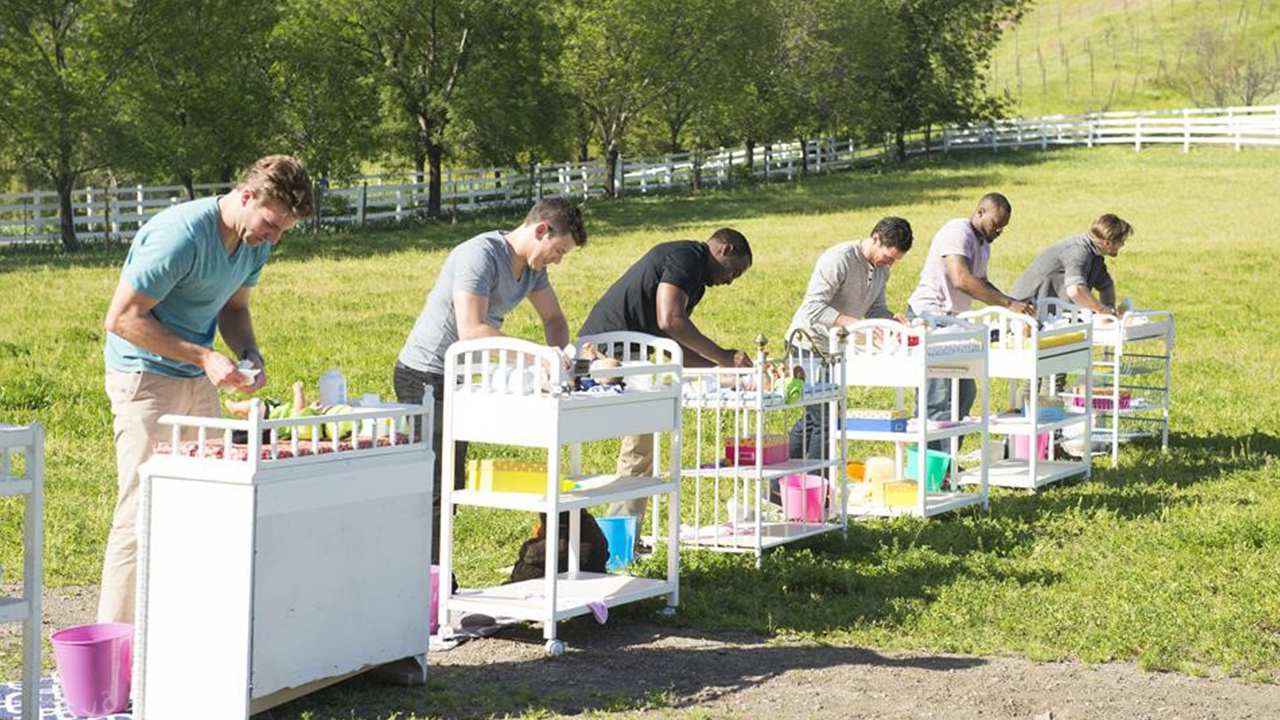 Since Whaboom won the challenge, he got to have some one-on-one time with Rachel first. He was being sensitive and told her that he really wanted to win because she was at the finish line. Then he told her that he wrote her a poem! It was actually very sweet! Fred tried to reassure Rachel that he wasn't a bad little boy at summer camp, but it seems like she still can't get past her initial impression. Overall, she is finding the conversations mundane and boring with all of the men on this date. They are all trying to be respectful, but it isn't serving them well, she wants kissing!
Back at the house, big news, Peter got the first one-on-one date! His card read, "I'm looking for my best friend."
WATCH: Rachel dishes about drama on this season's 'Bachelorette'
Back on the group date, Blake was on a campaign to get rid of Whaboom. Whaboom actually seems to be pretty nice. He wasted his time with Rachel complaining about Whaboom. Apparently, Blake was or is roommates with Lucas' ex! He told Rachel that Lucas even bought special makeup so he looks his best on TV. Blake confronted Lucas afterwards and told him that he spoke to Rachel about him and how fake his whole Whaboom act is. Lucas was, of course, offended. He ended the conversation by telling Blake he is "dismissed." Ha! Meantime, Dean turned the night around for Rachel. There were sparks flying, but he didn't go in for a kiss! He said that he didn't want to disrespect her. Oh well, there's hopefully always next time. Back to the drama, Whaboom says that Blake's ex-roommate says Blake is crazy and Blake says that's why she's being evicted. What? Such drama back at home! Kenny used his time to talk about his daughter Mackenzie and how he wishes there was someone else to experience things with the two of them so that it could enrich their lives. It was incredibly sweet. Rachel picked up the date rose and decided to give it to Dean! He walked her out to her car and laid a kiss right on her! Finally!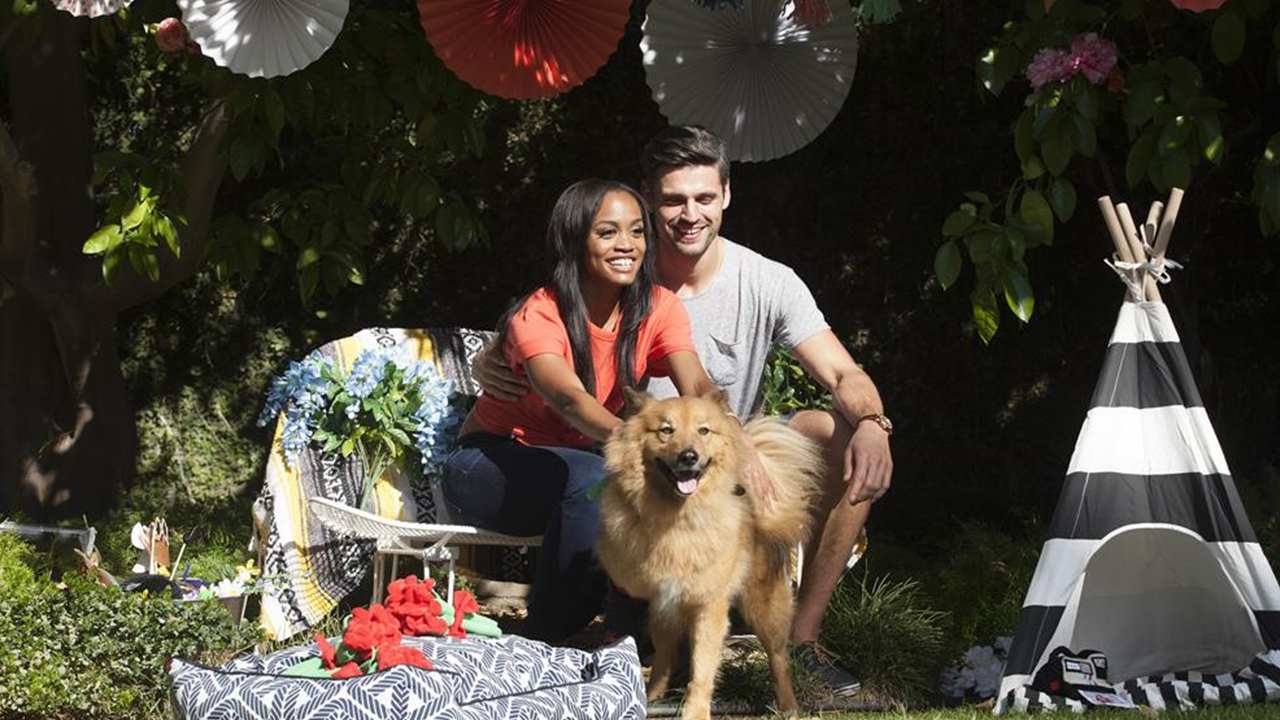 It was time for Peter's one-on-one! They drove to an airstrip where they took a private jet to Palm Springs with her dog Copper! Copper had an accident where he broke his leg so she wanted to spend some time with him too. Copper and Peter seemed to get along great on the plane ride. They took Copper to "BarkFest" which was like a pool party for dogs! They put a bag around Copper's cast and let him jump around and play in the water. Rachel said that she's smitten with Peter already and even called him "dreamy!" She added that he's "blowing her mind!"
Back at the house, the final group date card arrived. It read, "Will, Jamey, Diggy, Alex, Adam, Lee, Matt, Eric, Josiah, DeMario - Swish."
Later that evening on the one-on-one, the threesome went to a resort for a beautiful private dinner. Rachel asked him what his parents thought of this whole experience, and he said his parents were very supportive of it all! They joked about how their kids would most definitely have a center gap in their teeth. They both agreed to keep their tooth gaps because it "adds character." Peter revealed that he's been brokenhearted a few times, but he's gone to see a relationship therapist to try to figure it all out. Rachel revealed that she had done the same thing! These two are like peas in a pod! After that revelation, she offered Peter the date rose! Then he went in for the kiss! She said she got butterflies! Cue the fireworks! Could this date have gone any more perfect?!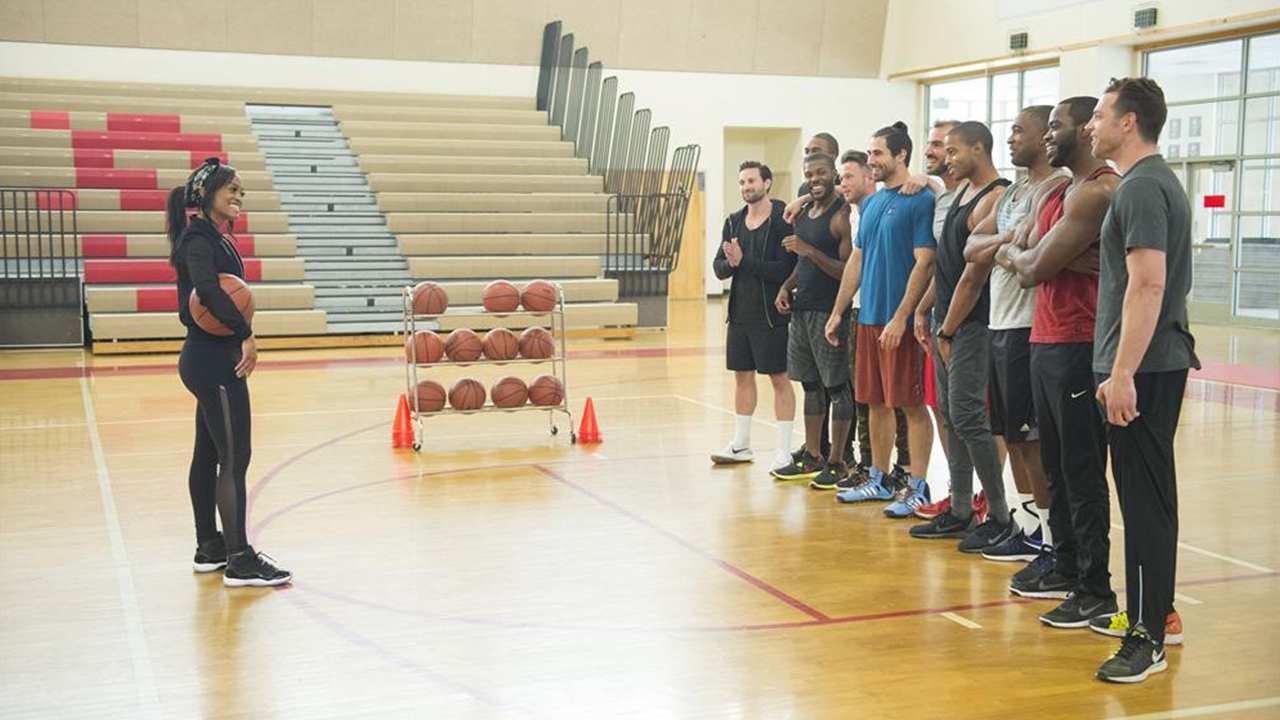 On the basketball group date, they were joined by Kareem Abdul-Jabar! How amazing is that?! Rachel said that she grew up playing basketball competitively and thought that a basketball date would be fun. Kareem talked about how basketball could help you figure out people's character and this would prove to be quite a revealing date. After training, they broke the guys up into two groups and they played a game in front of a bunch of fans. They guys were shooting air balls like crazy. They weren't very good! But DeMario who wasn't playing very well early on, turned it on and started to get into a groove. In the end, the other team won, but DeMario thought his team still did a great job.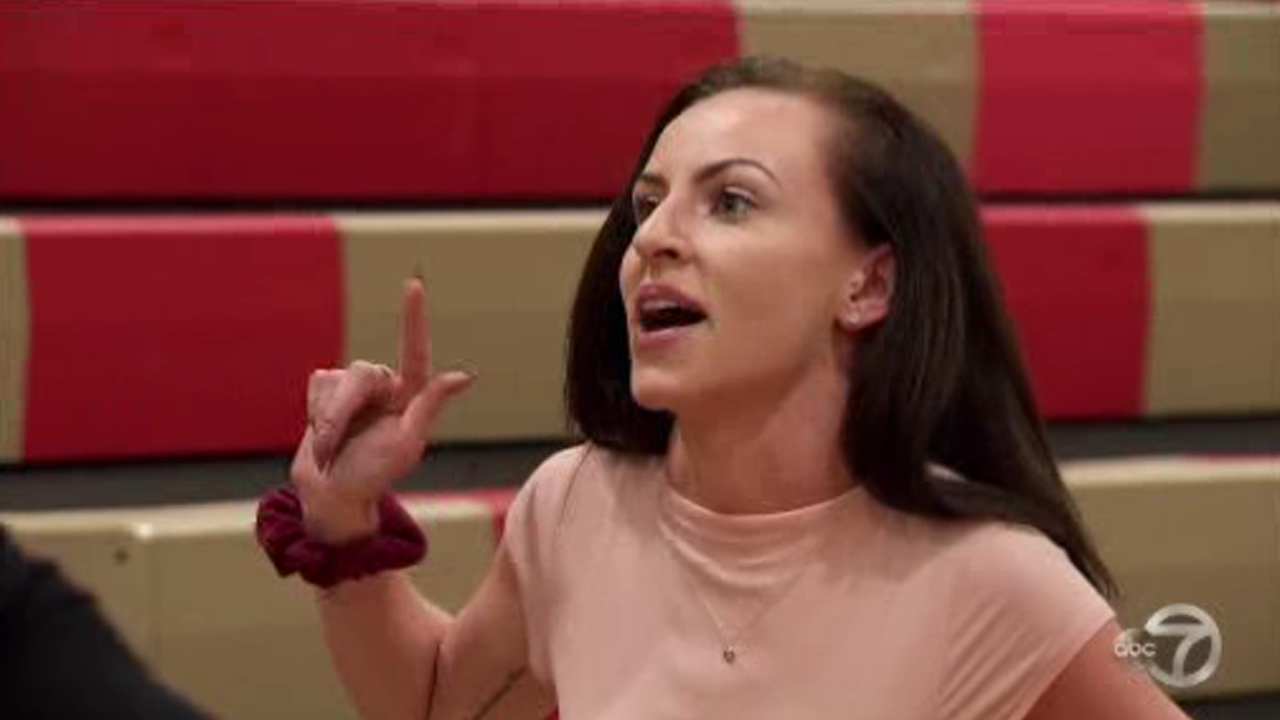 After Rachel was done meeting with fans, a woman came up to her. Lexi told Rachel that DeMario has been her boyfriend for seven months and still has the keys to her apartment! He ghosted her for a few days and then ended up on the TV as dating Rachel on "After the Final Rose." Rachel goes to get DeMario and all the guys thought he was getting a date rose, but he was getting a bad surprise! He said, who's this? He claims they went out a few times, and were on again off again. He says that they broke up face-to-face, Lexi said that she swears on her father's grave that it wasn't true. Lexi pulled out her phone and Rachel saw texts between them. Rachel sent DeMario home right then and there by saying, "get the *bleep* out." She said that she felt embarrassed that it happened. DeMario walked to a van and just kept saying, "This is crazy!" He says it's "bogus." Chris Harrison tried to creep up to talk to Rachel, but she said she didn't want to talk. But, she did. She went to find the rest of the guys and she told them what happened. She begged the guys to tell her if they had a girlfriend before moving on.
Later that evening, Rachel did her best not to let the whole situation get her down. Josiah gave her a sensitive talk and ended it with a kiss. It was just what Rachel needed in that moment. She also got kissy with Eric who she seems to really like! He offered her a hug when she said she connects through physical touch, and Rachel said, "Just a hug?" So he went in for the kiss. In the end, she decided to give the date rose to Josiah!
The next morning, the guys on the basketball group date filled in everyone else about the DeMario drama. They prepared for the rose ceremony with a big cloud overhead. She walked in wearing a stunning black and gold gown. She gave a speech about honesty and how she's still hoping for the best in her journey. Bryan (remember him? The first impression rose kisser) started with a kiss and then Rachel apologized for not giving him a date. So, he made his own! He took her to a massage table and gave her an adjustment and massage.
Security, security, there's someone at the front looking for Rachel. Guess who it is? DeMario! He tried to fill in security about the situation. They wanted to run it by Chris Harrison first before they allowed him on the property. Chris came out to talk to DeMario and said that he would let Rachel decide whether or not she wants to hear what DeMario has to say. Curiosity got the better of her and she decided to go talk to him. Lee sounded the alarm to the other guys who all decided they should go out there and throw him out.
We have to wait until next week to find out what happens! But, a preview did reveal that Lee is going to start stirring the pot as our new "villain."