If you love to eat and drink, this weekend offers a great chance to explore the world of food and beverage beyond restaurants and bars. From a gumbo festival to a birthday bash for deep dish pizza, there's plenty of ways to fill your tummy this weekend.
Hoodline offers data-driven analysis of local happenings and trends across cities. Links included in this article may earn Hoodline a commission on clicks and transactions.
---
GMBO Fest at The Promontory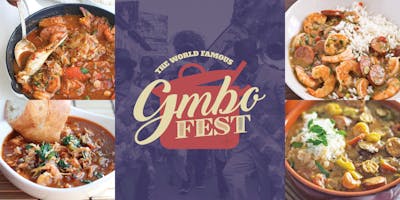 Vote for your favorite gumbo at the inaugural GMBO Fest this Saturday at The Promontory. Bring a healthy appetite -- you'll need it, as organizers expect more than 500 gallons of the Creole delicacy to be served. Participating restaurants include Ina Mae Tavern & Packaged Goods, Soul Vegetarian and Ova'Flo Southern Style Cuisine. Also expect a slew of live performances.
When:
Saturday, Dec. 1, 3 p.m.- Sunday, Dec. 2, 6 a.m.
Where:
The Promontory, 5311 S. Lake Park Ave. W
Admission:
$40-$45
Click here for more details, and to get your tickets
Onesie Bar Crawl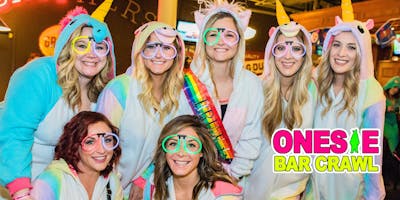 Bring your thirst and laid back vibes to this adult onesie-filled bar crawl.
Registered revelers check in at Stretch Bar & Grill to pick up tickets for two included drinks, then make their way to a half a dozen venues -- and an after party -- offering a variety of special promotions throughout the night. Participating bars include Dark Horse Tap & Grille, Irish Oak, John Barleycorn and more.
When:
Saturday, Dec. 1, 4-11:59 p.m.
Where:
Stretch Bar & Grill, 3485 N. Clark St.
Admission:
$10-$25
Click here for more details, and to get your tickets
Pizzeria Uno's 75th Anniversary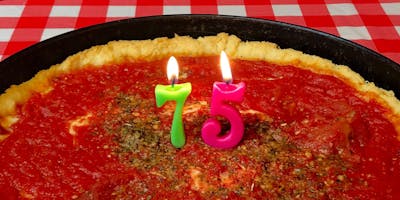 Enjoy a slice of history while celebrating the 75th birthday of deep dish pizza.
Guests will get their fill of free pizza from the original source, Pizzeria Uno, and enjoy a presentation on the pioneering pizzeria's history by Kendall Burns, founder of the U.S. Pizza Museum.
When:
Saturday, Dec. 1, 7-9 p.m.
Where:
U.S. Pizza Museum, 1146 S. Delano Court W
Admission:
Free; VIP options available
Click here for more details, and to get your tickets