CHICAGO (WLS) --
Randall "Randy" Rye promised investors that he had a state-of-the art computer program designed to make them rich. Instead, the 26-year-old is behind bars, guilty of concocting a brazen scheme to steal nearly $2 million.
PHOTOS: Luxury vacations, fancy watches, sports tickets, Randall Rye used nearly $2 million of stolen investor money to finance his life of luxury
Starting in 2015, he ran a purported investment company in Chicago and built a carefully curated social media life showing trips to sun soaked beaches, fancy watches, luxury cars and cigars on island vacations.
FBI Special Agent Brent Potter started investigating Rye after upset investors contacted federal authorities, fearing they'd been conned. Rye told investors that his company, Faster Than Light Trading, used a computer program he designed to bring big rapid returns by trading money at a very high speed. Federal authorities found that in the year and a half that Rye was in business he duped twenty investors, including his girlfriend and her family, into giving him $1.72 million.
Federal prosecutors say in reality, Rye never invested a penny of the victims' money. They say he dummied up account statements showing returns of 200-300 percent, outfitted a loop office with hundreds of thousands of dollars in computer equipment and even showed investors that he had $38 million saved in a bank account.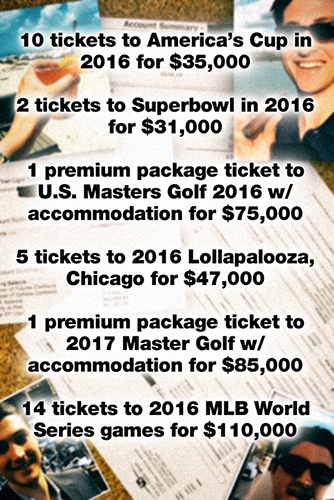 Out of cash to pay investors with the scheme falling apart, federal prosecutors say Rye fled the country.
"He was desperately stalling the victims up until the moment he left the country for Switzerland," said FBI Special Agent Brent Potter.
After several weeks abroad, the FBI learned Rye was returning to Chicago for a couple days. When they arrested him at dawn in his apartment just off of the Magnificent Mile, they discovered an arsenal.
Brent Potter, FBI: We noticed that he had at least two handguns and a pretty mean looking tactical double barrel pump shotgun along with body armor and a pretty sophisticated military style helmet.
Chuck Goudie: And what was that for?
Brent Potter, FBI: He said he was just a gun enthusiast and that he was interested in taking tactical shooting courses so he figured he would get the gear to do it right.
Despite a guilty plea, one mystery remains. After apparently trying to disappear, why return to Chicago?
"We have no idea why," said Potter.
He continued, "I have still have no idea why to this day he came back."
Investigators found no evidence that Rye planned some sort of attack with his cache of weapons and say his story about taking tactical shooting classes checked out. The I-Team contacted Rye at the Milan Federal Prison in Michigan but he didn't respond. After pleading guilty to fraud, he's behind bars until 2022. He's also required to pay back what he took from the victims.