RALEIGH -- A Wake County woman is busy helping feed 15 puppies she helped bring into the world.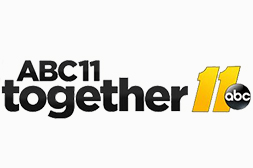 Bonnie Keyes volunteers at Wake County Animal Center. Last week, she went by the shelter right after a couple surrendered their dog "Leelo".
HERE'S HOW YOU CAN DONATE
Leelo was very pregnant. If a dog has its puppies in an animal shelter, the possibility of infection to the puppies greatly increases. Keyes knew Leelo couldn't stay. So she took her home for Leelo to have her puppies.
Nicole Horabik is with Cause for Paws NC, an animal rescue organization. She was at the movies when she got two phone calls from Wake County back-to-back. She knew something was up. When she called back, she was told "We have a foster mom, can you pay for a dog to deliver her puppies, medical treatment, and after-care?" Horabik agreed.
That night, Leelo went into labor. But after she delivered eight puppies, she had a problem. Keyes rushed her to the vet in the middle of the night where Leelo had an emergency C-section and delivered eight more puppies!
"Had she not come into the shelter and placed with a rescue, because she had to have the C-section, it's likely that mom and the babies wouldn't have made it," said Keyes.
Now the puppies are doing a lot of eating and sleeping - but even that costs a lot of money. Keyes and volunteers with Cause for Paws supplement mom's milk with a bottle twice a day. And there are lots of wipes, potty pads, and puppy food when they get off the milk. Leelo also has heartworms that need treatment. Medical costs and supplies could hit the thousands.
In another eight weeks, these puppies and Leelo will be up for adoption and have a chance to find forever homes.