CHICAGO (WLS) -- Storms raced through the Chicago area Tuesday with winds of more than 60 mph.
Click here to see all current watches and warnings
"Ok, I'm stuck. I can't go anywhere. The trees are all knocked down. These power lines are down right in front of me," said Sandi Altergott in a video shared with ABC7 Eyewitness News.
Winds gusted at 60-75 mph as the storms quickly moved southwest across the area.
"It was just insane, absolutely insane," she said later.
Live wires sparked a small fire, and nearly every block in Huntley had decades-old trees or branches on the ground. One person ABC7 Eyewitness News spoke with described their neighborhood "like a war zone."
Dave DiVenere shared video of the storm in Huntley, saying it was much stronger than what the area usually experiences.
Short video of the severe thunderstorm coming through Huntley around 4:48p. Strong winds and rain lasted 5-6 min. Way stronger than the usual stuff we get around here. #ilwx pic.twitter.com/qlrYvxZMKy

— Dave DiVenere (@DDivenere) September 25, 2018
These strong gusts downed several tree branches along Briar Hill Road in Huntley.
Michael Bazzoni shared video with ABC7 Eyewitness News via Twitter showing heavy rain blowing across a street in Lake Zurich.
As of 9 p.m., ComEd said more than 30,000 customers were without power, about two thirds of them in the west region of the coverage area.
There were 73 flights canceled at O'Hare International Airport shortly before 6 p.m., and arriving flights were delayed by an average of 47 minutes. Twenty-three flights had been canceled at Midway Airport.
Doppler 7 MAX: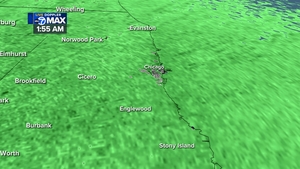 CLICK HERE to see the latest radar view from LIVE Doppler 7 MAX
Video from Twitter user Midwest Storm Chaser shows strong winds shaking trees behind a home in Elgin.
A tree and power lines were downed due to severe winds along High Street in Sycamore.
CLICK HERE for the latest 7-day outlook from the First Alert Weather Team: