CHICAGO (WLS) -- Drivers were advised to take caution and allow extra travel time during the Thursday morning commute. There were intense downpours as thunderstorms moved across the Chicago area, making it hard to see and hard to stop. More storms are expected to develop Thursday afternoon.
Doppler 7 MAX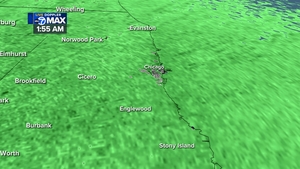 CLICK HERE to see the latest radar view from LIVE Doppler 7 MAX
Three people were injured, one critically, in a three-car crash early Thursday morning on the inbound Edens Expressway in north suburban Skokie.
A 25-year-old Wonderlake man lost control of his green 1996 Subaru on southbound I-94 near Church Street around 4:54 a.m. The pavement was wet and the car spun out, striking the left wall, Illinois State Police said.
The Subaru was hit by a gold 2004 Volvo. A 40-year-old Waukegan man driving a green 2001 Buick saw the collision, but was not able to stop in time. The Buick hit the Volvo.
At least two of the vehicles sustained heavy damage. Authorities had to extricate at least one of the drivers from their vehicle.
The man driving the Subaru was transported to Presence St. Francis Hospital with "serious, life-threatening" injuries. State police said the 25-year-old man was listed in critical condition and he underwent surgery.
The 68-year-old Skokie man who was driving the Volvo and the man driving the Buick were transported to Evanston NorthShore Hospital. Their injuries were not life-threatening and state police said their conditions stabilized at the hospital.
All lanes of the inbound Edens and two outbound lanes were temporarily closed for crash cleanup. One inbound lane and both outbound lanes eventually reopened, but traffic was backed up to at least the Tri-State spur around 6:30 a.m. All lanes re-opened around 9:15 a.m.
The investigation is ongoing. ISP said all of the drivers were wearing seat belts.
FLOOD WARNING
The National Weather Service said a flood warning will remain in effect through Sunday for the Des Plaines River, which saw record flood levels last week. The flood warning covers the Des Plaines River near Gurnee, Russell and Lincolnshire in Lake County and the Des Plaines River near Des Plaines in Cook County, as well as the Fox River at Algonquin Tailwater in Kane and McHenry counties.
As of 7:45 a.m., 2.73 inches of rainfall had been recorded near Harvard and McHenry over the past 24 hours, according to the weather service. Elgin saw 1.12 inches of rainfall in the same period, while 1.14 inches were reported in Lake Zurich.
Just after residents thought the worst was over, flood cleanup in northwest suburban Algonquin was put on hold Thursday because of the rain.
"When I got up, I just came out and looked and shook my head," said Marie Betz, an Algonquin resident.
Betz said she saw parts of her patio furniture resurface Wednesday, but Thursday morning, her birdbath and other items were underwater again. Down the street, water levels were back up.
"The highest in the past was up to this tree line. These are times that try a man's soul," said Jonathan Beeman, another Algonquin resident.
Homeowners added more layers of sandbags around their property Thursday, as high water started to spill over the barrier they had already made.
"We started out with two layers. Now this has come up, so it's three and four in some spots," said Curt Wittrock, another Algonquin resident. "But the house is dry. The basement is dry. As long as the pumps keep going and the power keeps going, we should be OK."
Neighbors said with more storms on the way, there will be no rest over the next few days.
Starting Thursday, people affected by the flooding in the north suburbs will have a new center to help them get back on their feet. A disaster flood resource center is scheduled to open at the old Garden Fresh location in Round Lake Beach.
Counselors will be there, as well as officials who can help people find housing and insurance information. The center will be open through the weekend.
STORM DAMAGE
Part of a building came tumbling down onto parked cars in Chicago's Pilsen neighborhood overnight. Nearly 100 bricks fell off the abandoned Western Shade Cloth Company building in the 2400-block of South Jefferson Street. Two cars sustained minor damage, but a third car's roof caved in and its hood and windows were badly damaged.
The good news is no one was inside the cars when the bricks came down.
"Thankfully, as far as we know, nobody was around. Nobody was in the cars. I wasn't in the car. I think my car got the worst damage. The roof is completely smashed. But thankfully I wasn't in the car, so we're all safe. No injuries as of yet," said Megan Swierenga, whose car was damaged.
As of 9:30 a.m., about 15,000 ComEd customers were without power in the Chicago area. The outages were scattered.
CLICK HERE
to see real-time updates.
Although Thursday morning's storms produced heavy rain and lightning, there was no hail and no strong winds. The rain is expected to wind down between 9 and 10 a.m. After a break, the storms are expected to develop again starting around 3 p.m. High temperatures will be around 90 degrees.
CLICK HERE for the latest 7-day outlook from the ABC7 Weather Team:
(Source: Sun-Times Media Wire - Copyright Chicago Sun-Times 2017.)