CHICAGO (WLS) -- Snow, sleet and rain moved into the Chicago area Monday evening, leaving accumulations of slushy snow in their wake.
ABC 7 Meteorologist Larry Mowry said the leading edge of the precipitation was moving into the city from the southwest starting at around 3:45 p.m. The system is producing some very large snowflakes, as well as sleet and rain.
A band of weather worked its way from west to east through the evening and night, the Chicago area will first see sleet and rain, then heavier snowfall as temperatures drop below freezing.
In Park Forest, it started as sleet. In McHenry County a light dusting of snow covered one man's backyard. But in Round Lake heavy winds and snow blanketed the area just as rush hour began.
Snowfall will be heavy at times, and is expected to linger as late as 1 a.m.
Near the O'Hare Oasis the snow picked up quickly just after the evening commute. Rob Peterson was waiting to pick up a group of church volunteers from the airport.
"We'll just be taking our time to get there as safely as we can," he said.
Snowfall totals between 1 and 3 inches in Cook County are likely, with slushy accumulation, Mowry said. The heaviest snow will be up by the Illinois-Wisconsin border.
The weather has already caused some problems at Chicago airports. As of 5 p.m. O'Hare International Airport reported 105 canceled fights and delays averaging 59 minutes due to the weather. Midway International Airport reported 32 cancelations and delays averaging less than 15 minutes.
Emily Ruge was glad her husband's flight wasn't one of them.
"I'm glad that he made it before the major part of the storm, and we're hoping to make it home before the storm starts," she said.
"I just home everyone gets safely and has a good night sleep," said daughter Faith Ruge.
Drivers should be extra careful on the roads, as the snowfall could become quite heavy at times and impact visibility. Roads are also slick due to rain and sleet, and drivers should plan for their commutes to take extra time, especially if they are heading west.
There is even the possibility of lightning and thunder during the heaviest snowfall in some areas.
Doppler 7 MAX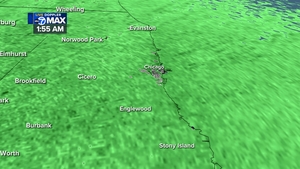 CLICK HERE to see the latest radar view from LIVE Doppler 7 MAX