CHICAGO (WLS) -- As rains tapered off in the evening, communities across the Chicago area were trying to fight flood waters and dry out after two days of rain.
Residents in Des Plaines said they'd be dealing with leftover flood water for days. Near Junior and Hawthorne, walking around the block now includes wading through a pond.
"I'm praying for sunshine right now," said Triston Bakulinski, Des Plaines resident.
Residents are using their own pumps to try to slowly bring the water levels down. The National Weather Service said the Des Plaines River is nearing 16 feet, a foot above flood stage.
"This morning it was worse, you literally cannot walk in this neighborhood," said Stanley Bakulinski, Des Plaines resident.
Residents are having to get creative.
"To get from my front porch to my truck I had to lay a ladder down and a couple of pieces of wood to get to my truck," Triston said.
Some residents said this flooding could be the last straw.
"If it comes up again that's, that's the end, I'm leaving," Triston said. "Yes, absolutely, there's no way I can deal with this again."
The NWS is predicting the Des Plaines River could rise a little more but should start receding by Saturday night.
The Elmhurst Presbyterian Church School doesn't use their basement classroom right now. That's a good thing because it's a mess. Members are pumping water out of the gully next to the windows where it came pouring in earlier. The seemingly non-stop rain over the last couple days had nowhere to go.
"In the six years that I have been affiliated with this church here, I have never seen the water get that high. It never came through the window before," said church member Fred Schroeter.
The rain has caused flooding and high water across a wide path in the south, west and northwest suburbs. In Frankfurt, Western Avenue north of Sauk Trail was closed for a while Friday morning. The steady downpour at times seemed to be coming down sideways, making visibility difficult.
In Lombard, a pond went well over the banks and burst a barrier, which confused several large fish who inadvertently swam out onto the grass. Todd Whitman helped get them back to deep water.
"They think it is another stream, you know, an access way and they get caught in that," said Whitman.
Rain water also flooded backyards and seeped into the basement at Chris Kozlowski's house.
"We have been checking it pretty much constantly from last night, and it wasn't bad until this morning," said Lombard resident Chris Kozlowski.
After being cooped up much of the week the break from the rain early this afternoon finally allowed Rae Smith a chance to finally walk her dogs.
"The big one is a Hurricane Harvey rescue. She still gets nervous when it rains, and she is afraid of storms. I don't know why she is afraid of storms. We haven't been able to walk them since, like, Wednesday night," said Rae Smith.
Doppler 7 MAX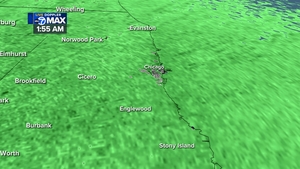 CLICK HERE to see the latest radar view from LIVE Doppler 7 MAX
Chicago has seen more rain since May 1 this year than the same period in any year since 1871, when officials started keeping records.
The skies are forecast to clear up for the weekend. Temperatures should reach into the 70s on Saturday and into the 80s on Sunday, the weather service said.
CLICK HERE for the latest 7-day outlook from the ABC7 Weather Team:
A flash flood watch was issued Friday morning for the Chicago metro area.
The CTA Yellow Line was shut down for nearly two hours because of flooding Friday morning in north suburban Skokie.
All service on the Yellow Line was suspended about 8 a.m. because of flooding on the tracks near Niles Center Road in Skokie, according to CTA spokesman Steve Mayberry.
Shuttle buses operated between the Dempster-Skokie and Howard stations while trains were stopped, but normal service resumed by about 9:45 a.m., Mayberry said.
Sun-Times Media Wire contributed to this report.