CHICAGO (WLS) -- Heavy rain and storms moved through the Chicago area on Saturday, sparking a tornado watch, flooding and severe storms.
A swollen Chicago River flooded the riverwalk and park areas near Chinatown.
Late Saturday, the Metropolitan Water Reclamation District said they have opened the gates at the Chicago River and Wilmette Harbor, which means untreated water and sewage was flowing into Lake Michigan.
Saturday evening, Barrington police were diverting traffic from the area of Russell and Spring streets in due to rising water.
A Tornado Watch was issued for parts of Kankakee, Kendall, LaSalle, Livingston, Grundy, Lee, Ford and Iroquois counties until 1 a.m. Sunday.
A Severe Thunderstorm Warning was issued for Lake and Porter counties in Indiana until 9:45 p.m.
A Severe Thunderstorm Warning was issued for Grundy, Livingston and LaSalle counties, but expired by 9 p.m.
WATCH: FACEBOOK LIVE WITH METEOROLOGIST PHIL SCHWARZ
A Flash Flood Watch was effect for much of the Chicago area on Saturday after between 3 and 6 inches fell throughout the region. Saturday morning, storms dropped more than an inch of rain in some areas by 7 a.m.
Doppler 7 MAX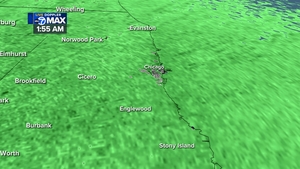 CLICK HERE to see the latest radar view from LIVE Doppler 7 MAXFLOODING
A Flash Flood Watch was issued until 4 a.m. Sunday for Cook, DeKalb, La Salle, DuPage, Kane, Lake (Ill.), and McHenry counties, with an additional two to four inches of rain possible by Sunday morning. A Flood Warning has been issued for the Des Plaines River in Riverside, the east branch of the DuPage River at Bolingbrook and the west branch of the DuPage River near Warrenville. Late Saturday, the east branch was reported at 22.6 feet, which is less than an inch of 23 feet which is considered major flooding.
The inclement weather has led to the cancellations of a Cubs viewing party at Wrigley Field, as well as the Ditka Dash 5K at Soldier Field, the Naperville Stop, Drop & Run 5K and the Lynn Sage 4th Annual pink Panther Run.
WATCH: ABC7 First Alert Weather Forecast