CHICAGO (WLS) -- Between two and four inches of rain fell this weekend in the Chicago area, and a Flash Flood Watch is in effect until 7 a.m. Monday.
The rain continued Sunday night and expected through the Monday rush hour and throughout the day. About a half inch to an inch more of rain is still expected through Monday 11 p.m.
Most of Sunday, severe weather has stayed south and east of Chicago. However, more spotty showers are expected Sunday evening, possibly even a threat for an isolated thunderstorm.
At about 5 p.m. Sunday, rain totals ranged from 4 to 1.5 inches: Elk Grove Village (3.93 inches), Rogers Park (3.02 inches), Hyde Park (2.57 inches), Naperville (2.44 inches), Oakbrook Terrace (2.01 inches), Joliet (2.35 inches) and Romeoville (1.65 inches).
The same system has sparked
tornadoes and flooding that has killed 13 people
and injured 50 people in the South and Midwest.
An average of two inches of rain fell in Chicago and suburbs. In Chicago, the Metropolitan Water Reclamation District had to open the gates that separate the lake from the river for several hours, pumping sewage and storm runoff into Lake Michigan to relieve the pressure inside the stormwater tunnels. But they were still full.
Doppler 7 MAX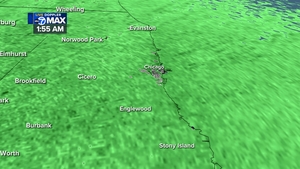 CLICK HERE to see the latest radar view from LIVE Doppler 7 MAX
In southwest suburban Riverside, officials were monitoring weather conditions, and doing visual inspections along the Des Plaines River.
"We are concerned with any water that is coming from upstream that is making its way down here," said Matthew Buckley, of the Riverside Fire Department. "As of right now, the river is expected to crest at 8.3 feet at 2 p.m. on Monday afternoon. Once that happens it will start to recede."
The flooding in Riverside is expected to only occur in the forest preserve areas, with only a handful of homes possibly affected. Sunday evening, they were still dry.
However, unicorporated Glen Ellyn was not so lucky. Emergency crews had to shut down Route 53 at Butterfield Road for several hours due to flooding.
Earlier Sunday, rain caused slick roads on I-80 near Minooka and reduced visibility causing a few accidents. In Bolingbrook, the DuPage River overflowed, turning parts of a nearby a street into a stream and a parking lot into a pond.
In Oak Lawn, high winds overnight caused a large tree to fall on a home in the 4000-block of West 106th Place. The person inside the home was not injured, but the home sustained roof and gutter damage with water leaking into the home.
CLICK HERE for the latest 7-day outlook from the ABC7 Weather Team:
The weather has led to the cancellation of the March of Dimes' March For Babies along the lakefront in Grant Park Sunday. The South Suburban March for Babies has been moved indoors at St. Xavier university's Shannon Center. For more information, visit
marchforbabies.org
.