CHICAGO (WLS) -- A line of thunderstorms moved through the Chicago area during the Friday morning commute, causing several spinouts and crashes.
Doppler 7 MAX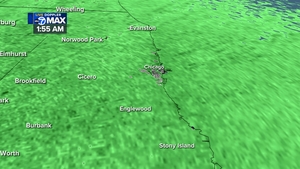 CLICK HERE to see the latest radar view from LIVE Doppler 7 MAX
A Severe Thunderstorm Warning was issued for parts of Will and Kankakee counties until 6:30 a.m. The radar detected winds upward of 60 mph along leading edge of a storm in that area.
Heavy rain, lightning and gusting winds were detected across the area early Friday morning. Drivers were advised to leave early and drive carefully because of the slick roads and limited visibility during occasional downpours.
A semi jackknifed on the Kennedy Expressway, there were several crashes on the Eisenhower Expressway and there was a collision on the Ronald Reagan Highway at the Meyer toll plaza before 6 a.m., when the storms moved southeast.
The storms were expected to clear out of the area by mid-morning. Skies should begin to clear after 8 a.m. Friday will be sunny and less humid, with highs in the low 80s.
CLICK HERE for the latest 7-day outlook from the ABC7 Weather Team: