CHICAGO (WLS) --
It's was a hot one in Chicago. In fact, Thursday could be the hottest day of the month so far.
High temperatures reached the low 90s with humidity making it feel like 100 degrees outside Thursday afternoon, ABC7 Meteorologist Cheryl Scott said. There is also the potential for rain, including some heavy rain, Thursday night with storms continuing into Friday thanks to near-tropical humidity.
It won't be any cooler by the lake. When there's a lake breeze, temperatures tend to be cooler near Lake Michigan. But with a south-southwest wind, temperatures will also reach the low 90s along the lakefront Thursday.
Many people will look to cool off by taking a swim. But the lake may not feel as refreshing as people hope. The water temperature reached 80 degrees Wednesday, for the first time this summer.
DOWNLOAD THE APP:
ABC7 Chicago Weather App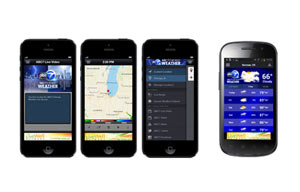 In the shadow of Soldier Field boats bobbed in the water at Burnham Harbor and Bears fans lined up for a preseason game in summer dresses, shorts, flip flops and even bare feet in one case. Workers kept water close by.
The hot air made it a little harder to breathe Thursday.
"It's kind of like walking through a swamp really. It's one of those kind of weather when you're breathing the air and you feel like you kind of have to push away to get through," said Joe Mandel, who spoke with ABC7 in Chicago's Loop.
The air quality forecast Thursday is expected to reach unhealthy levels for children and people with heart or breathing problems, the Illinois Environmental Protection Agency said.
"It's hard to breathe. It's all the industry, the pollution," said Eleanor Forte, a Chicagoan.
Downtown commuters inhaled diesel fumes as they walked to work and people on bikes got even closer to it.
"As I'm breathing now, what I'm smelling is pollution and that's not a good smell," said Pam Westbrook, in the Loop.
The Illinois EPA urged people to take public transportation to cut down on pollution.
"I feel bad for people with allergies and all that stuff because the pollution and the exhaust coming from the vehicles, it's horrible," said Angeline Griffith, another Chicagoan.
CLICK HERE for the latest 7-day outlook from the First Alert Weather Team:
Conditions will be steamy Thursday before turning stormy Friday, Schwarz said. Widespread severe weather is not expected, but there will be scattered showers and storms, with a chance for an isolated severe storm. High temperatures will be near 90.
The rain, humidity and heat will ease over the weekend. Clearing skies and high temperatures are expected Saturday and Sunday.