Florence has weakened into to tropical depression but flash flooding and major river flooding are expected to continue over significant portions of the Carolinas as the death toll rose to 17 on Sunday.
The South Carolina Highway Patrol says a pickup truck was traveling west on Interstate 20 in Kershaw County on Sunday morning when it went off the roadway. Troopers say the truck struck an overpass support beam, and the driver died at the scene.
RELATED: Aerial footage shows extent of Florence's damage in NC town
Kershaw County Coroner David West says the driver's name has not been released because all relatives have not yet been notified.
The 14th victim was a man who drowned when a pickup truck flipped into a drainage ditch in South Carolina. Georgetown County Coroner Kenny Johnson says 23-year-old Michael Dalton Prince was a passenger in the truck, which lost control on a flooded two-lane road early Sunday.
Johnson says the driver and another passenger escaped after the truck ended upside down in the flooded ditch north of Georgetown.
Authorities say a Horry County couple died of carbon monoxide poisoning running a generator inside and a Union County woman died when her vehicle hit a tree branch.
Heavy rain has fallen on portions of central and eastern South Carolina after former hurricane-turned-Tropical Depression Florence moved onshore.
North Carolina officials say large-scale search-and-rescue operations are underway in coastal areas as floodwaters from Florence spread across the state and road conditions worsen.
Michael Sprayberry is director of the North Carolina Division of Emergency Management. He said at a news conference that more than 1,000 responders were working with more than 200 boats to rescue people Sunday afternoon.
Officials are also delivering food, water and rescue vehicles to hard-hit areas.
The state's transportation secretary says 171 primary roads are closed, 100 more than a day earlier. Officials warned that problems would spread westward Sunday along with the remnants of the storm.
Gov. Roy Cooper says the storm has "never been more dangerous" than it is now for areas from Fayetteville and Lumberton, across the Sandhills and central part of the state into the mountains.
Around 15,000 North Carolinians are in shelters and about 700,000 were without power.
The city of Wilmington, North Carolina, has been completely cut off by floodwaters and officials are asking for additional help from state law enforcement and the National Guard.
Woody White is chairman of the board of commissioners of New Hanover County. He said at a news conference Sunday that additional rainfall Saturday night made roads into the city impassable.
White says officials are planning for food and water to be flown to the county, although new distribution centers will have to be found because of all the rain in the northern part of the county.
Earlier Sunday, officials from the Cape Fear Public Utility Authority had said they were almost out of fuel for the water plant and might have to shut down. The utility later issued a release saying it had found additional fuel.
White says officials have asked Gov. Roy Cooper for additional aid.
Hurricane Florence in photos
North Carolina state regulators and environmental groups are monitoring the threat from hog and poultry farms in low-lying, flood-prone areas.
These industrial-scale farms typically feature vast pits of animal feces and urine that can pose a significant pollution threat if they are breached or inundated by floodwaters.
In past hurricanes, flooding at dozens of farms also left hundreds of thousands of dead hogs, chickens and other decomposing livestock bobbing in the floodwaters.
Duke Energy said Saturday night that heavy rains from Florence caused a slope to collapse at a coal-ash landfill at a closed power station near the North Carolina coast.
Duke spokeswoman Paige Sheehan said about 2,000 cubic yards (1,530 cubic meters) of ash were displaced at the L. V. Sutton Power Station outside Wilmington and that contaminated runoff likely flowed into the plant's cooling pond. The company has not yet determined whether the weir that drains the lake was open or if contamination may have flowed into the Cape Fear River. That's enough ash to roughly fill 180 dump trucks.
RELATED: How Chicagoans can help hurricane victims
Florence slammed into the North Carolina coast as a large hurricane Friday, dumping nearly three feet (1 meter) of rain and swelling the region's rivers. The resulting flooding forced swift-water rescues and left several people dead.
Sheehan said the company had reported the incident to state and federal regulators "out of an abundance of caution."
RELATED: Dog helps displaced baby squirrel find shelter
The coal-fired Sutton plant was retired in 2013 and the company has been excavating millions of tons of ash from old waste pits and removing it to safer lined landfills constructed on the property. The gray ash left behind when coal is burned contains toxic heavy metals, including arsenic, lead and mercury.
WATCH: How Hurricane Florence stacks up against other historic storms
Duke has been under intense scrutiny for the handling of its coal ash since a drainage pipe collapsed under a waste pit at an old plant in Eden in 2014, triggering a massive spill that coated 70 miles (110 kilometers) of the Dan River in gray sludge.
RELATED: Florence death toll rises
In a subsequent settlement with federal regulators, Duke agreed to plead guilty to nine Clean Water Act violations and pay $102 million in fines and restitution for illegally discharging pollution from coal-ash dumps at five North Carolina power plants. The company is in the process of closing all of its coal ash dumps by 2029.
Do you know someone affected by Hurricane Florence? Give us a call as (312) 750-7070
Spokeswoman Megan S. Thorpe at the state's Department of Environmental Quality said state regulators will conduct a thorough inspection of the site as soon as safely possible.
"DEQ has been closely monitoring all coal ash impoundments that could be vulnerable in this record breaking rain event," Thorpe said. She added that the department, after assessing the damage, will "hold the utility accountable for implementing the solution that ensures the protection of public health and the environment."
There are at least two other coal-fired Duke plants in North Carolina that are likely to affected by the storm.
RELATED: 'Everything is going to be alright': How one NC resident found hope during Hurricane Florence
The H.F. Lee Power Station near Goldsboro has three inactive ash basins that flooded during Hurricane Matthew in 2016, exposing a small amount of coal ash that may have flowed into the nearby Neuse River. The old waste pits are capped with soil and vegetation intended to help prevent erosion of the toxic ash beneath.
LATEST RADAR IMAGE: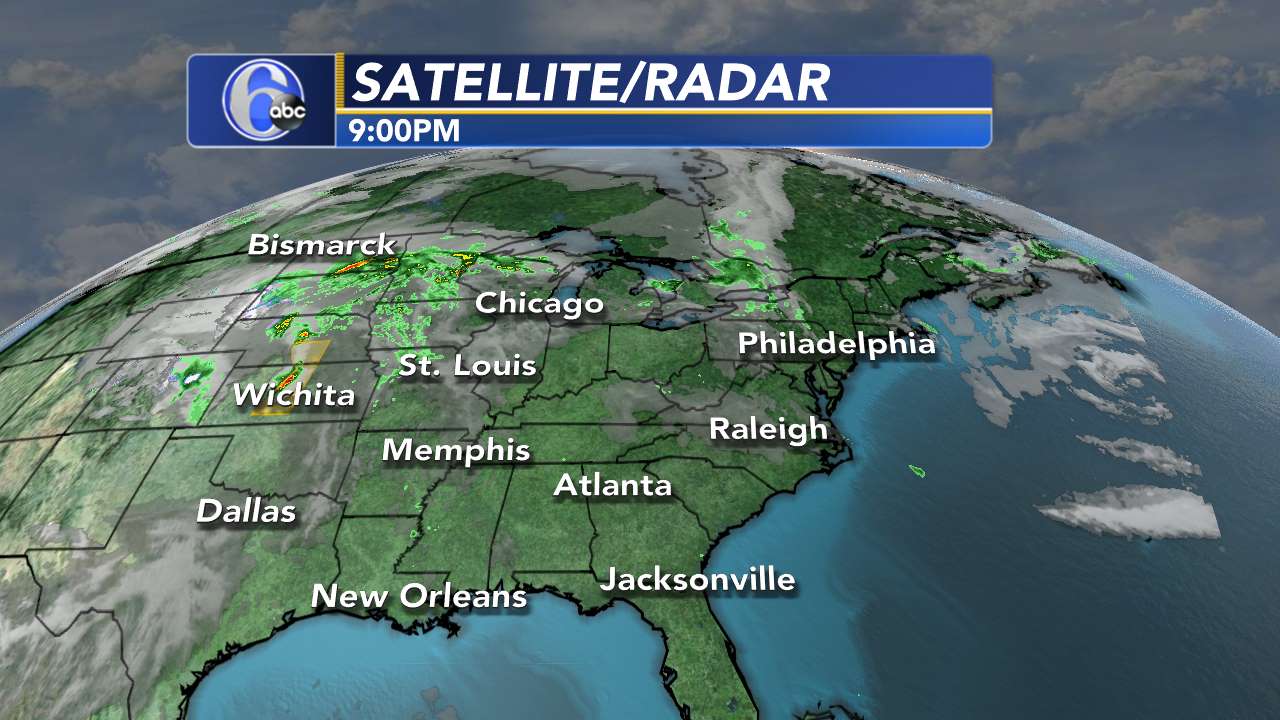 The Neuse is expected to crest at more than nine feet (3 meters) above flood stage Monday and Sheehan said the company expects the same ash basins are likely to be inundated again.
At the W. H. Weatherspoon Power Station near Lumberton, Sheehan said it had already rained more than 30 inches (75 centimeters) by Saturday evening, causing a nearby swamp to overflow into the plants cooling pond. The Lumber River is expected to crest at more than 11 feet (3.3 meters) above flood stage Sunday, which would put the floodwaters near the top of the earthen dike containing the plant's coal ash dump.
'We are coming to get you:' 150 needing rescue after getting trapped on roofs, in attics in New Bern
Environmentalists have been warning for decades that Duke's coal ash ponds were vulnerable to severe storms and pose a threat to drinking water supplies and public safety.
"Unfortunately, Duke Energy has spent years lobbying and litigating and still has not removed the coal ash from its dangerous riverfront pits in the coastal area, some of which are in the floodplain," said Frank Holleman, a senior attorney at the Southern Environmental Law Center who has battled the company in court. "When a hurricane like Florence hits, we have to hope and pray that our communities do not suffer the consequences of years of irresponsible coal ash practices by the coal ash utilities."
RELATED: Where you can donate to help hurricane victims
WLS-TV contributed to this report.