CHICAGO (WLS) -- A series of strong storms moved through the Chicago area Tuesday evening, causing flooding and producing reports of tornadoes.
REPORTED TORNADO CAUSES DAMAGE IN MANHATTAN
Officials in southwest suburban Manhattan said their downtown area was damaged by a funnel cloud that touched down Tuesday evening.
A tornado warning had been issued for Will County and expired at 7:30 p.m.
Officials said there was damage to the park, a pole down by the fire station, and damage along Main Street including car damage, broken glass, and peeled up roofs. Mayor James Doyle said he saw video of a funnel cloud touching down, and the National Weather Service said trained spotters reported multiple touchdowns in the area.
Some people are without power due to the damage. ComEd workers are on the scene repairing a downed power pole and damaged power lines.
Doyle said no one was injured, and even though there was a softball game in the park at the time of the storm no one there had been hurt.
To stay safe during a tornado you should move to the lowest level of your home or a bathroom or closet. If you do not have a lower level, stay away from windows, and cover your head. If you live in a mobile home you should leave that mobile home and seek shelter in a sturdy building.
HEAVY RAINS CAUSE FLOODING IN NORTHWEST SUBURBS
The storms brought heavy rains to the north and northwestern suburbs.
In rural Hampshire, Illinois, unrelenting rain swallowed the surface of a road.
"We got over three inches of rain so far," said resident Larry Boyer.
Rain drowned lanes of Route 72, turning runoff into a fast-moving river.
"Deep, deep, and you can't see the road," said Nancy Winters, resident.
Drivers could barely pass through and even then not safely.
The same storm inundated Huntley with just as much rain in a few hours before moving northwest to Mundelein and on to Libertyville, dumping enough rain to flood roads there, too.
Grayslake wasn't spared from the multi-county wash out either.
Doppler 7 MAX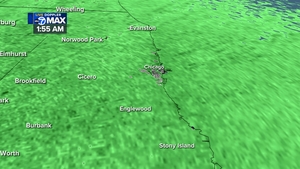 CLICK HERE to see the latest radar view from LIVE Doppler 7 MAX
Rainfall rates wereabout 1 to 3 inches per hour, according to ABC7 Eyewitness News meteorologist Cheryl Scott, bringing with them real flooding concerns.
One wave of storm made way for another, offering no relief to the oversaturated northwestern suburbs.
RAIN IN CITY DELAYS BASEBALL GAME, CANCELS HUNDREDS OF FLIGHTS
The Chicago White Sox announced that Tuesday evening's game would not start on time due to the weather.
As of 5:45 p.m. O'Hare International Airport reported 713 cancelled flights and delays averaging 59 minutes. Midway International Airport reported 88 cancelled flights and delays of less than 15 minutes.
CLICK HERE for the latest 7-day outlook from the ABC7 Weather Team:
A flash flood watch was in effect for north central and northeast Illinois from 1 p.m. to 1 a.m. Wednesday, the weather service said. Rivers and streams in the area are running high and the ground remains moist from recent rainfall, so any additional rain could quickly turn into runoff.
Chicago has seen more rain since May 1 this year than the same period in any year since 1871, when officials started keeping records.
The Sun-Times Media Wire contributed to this report.