SCHAUMBURG, Ill. (WLS) --
Stormy weather moving across the Chicago area is dumping heavy rain on western and northwestern suburbs and causing flash flooding in some places.
In northwest suburban Schaumburg, workers tried to clear storm drains as the day's downpours created flooding and forced some road closures. Morse Avenue is closed between Wright Boulevard and Mitchell Boulevard. Lunt Avenue and Estes Avenue reopened around 7:30 p.m.
A Flash Flood Warning is in effect for Boone, DeKalb and McHenry counties in Illinois until 11 p.m.
AT&T technician Fred Aguayo said the rain came fast.
"I was at a 711 working, that's where the circuit I was working on was at, and you couldn't even see the gas pumps which were 20 feet away," Aguayo said.
"It was quick," said Elaine Soltau, who was forced to drive around the flood waters.
"There were floods on the way home, too. I had to drive on the inner lane," she said.
A Fed-Ex driver was stuck in a flash flood and eventually towed out of the water.
Tow truck driver Bob Ward witnessed the fierce-looking storm as he neared Route 53 at I-290.
"I no sooner rounded that curve and that was all she wrote. Somebody opened up the waterfall," Ward said.
He has some advice for people who get caught in such heavy downpours.
"Take your time, be safe. It ain't worth getting into an accident for," he said.
The heaviest rain and storms were northwest of Chicago along I-90 in McHenry and DeKalb counties, where nearly two to four inches of rain had fallen by 6:30 p.m., according to ABC7 Meteorologist Cheryl Scott. Storms dissipated after sundown.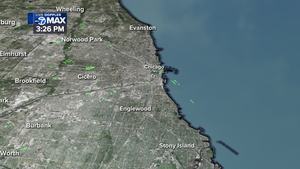 CLICK HERE to see the latest radar view from LIVE Doppler 7 MAX