CHICAGO (WLS) -- Snow blanketed the Chicago area Monday, making roads slick and leading to hundreds of flight cancellations at the city's airports.
The snow picked up again Monday night and is expected to continue into Tuesday, with a Lake Effect Snow Warning in effect until 4 p.m. Tuesday for Cook, DuPage and Lake counties in Illinois. Those areas could see an additional five to ten inches of snow.
PHOTOS: Snow blankets Chicago area
As of 5 p.m. Monday, 2.2 inches of snow had fallen at O'Hare and 1.6 inches at Midway. In the suburbs, 6.1 inches of snow was measured in Gurnee, along with 4 inches in Northbrook, 3 inches in McHenry, 2.3 inches in Downers Grove and 2 inches in Lombard.
"Whether it's going to be an inch or twelve inches, there's a few of us who aren't going to get a whole lot of sleep tonight," said Tom Hagerty of Waukegan Public Works. "We'll be monitoring it throughout the night."
Doppler 7 MAX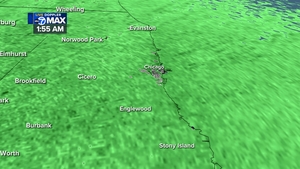 CLICK HERE to see the latest radar view from LIVE Doppler 7 MAX
It had been 85 days since Chicagoans have had to pick up a shovel or pull out the snow blower, but Monday morning brought a dose of reality.
"We have to drive slower now because everyone forgets how to drive," said Chicago resident T.J. Minogue.
More than three inches accumulated in Jefferson Park. The white fluffy snow isn't all that heavy to clean-up, but for Devarshi Bhatt, it's a brand new experience. His friends warned him about Chicago winters when he moved here months ago, but hasn't seen snow until Monday.
"Today was unexpected. It was winter break last week, I'm in college, so I was having fun. It was a perfect winter break. Now school starts, I have to go to the bus station by walk, as soon as I woke up, I said, 'Uh oh, I can't walk today,'" said Bhatt.
The hardest hit areas with the most amount of snowfall were in the northern suburbs. In Gurnee, snow didn't stop snowing until after 10 a.m., something Eileen Castor was not expecting.
"I thought they were gonna be wrong and maybe an inch," said Castor.
The snow has led to a number of schools closing and others are closing early. For a full list of closures,
click here
.
HUNDREDS OF FLIGHTS CANCELLED AT CITY AIRPORTS
At the city's airports, hundreds of flights have been cancelled. As of 10 p.m. at O'Hare, 486 flights have been cancelled with delays averaging 18 minutes. An additional 154 flights have been cancelled at Midway, where average delays are under 15 minutes.
Chicago's airports aren't the only ones impacted by snow. With a blizzard expected to hit the northeast, American Airlines canceled all Tuesday flights into LaGuardia Airport and John F. Kennedy International Airport. United Airlines cancelled all Tuesday flights at LaGuardia and Newark Liberty International Airport.
American said flights before 8 a.m. Tuesday were canceled at Ronald Reagan Washington National Airport; flights before 5 p.m. Tuesday were canceled at Philadelphia International Airport; and flights after 8 a.m. Tuesday were canceled at Logan International Airport in Boston.
United canceled flights after 9 a.m. Tuesday at Logan. United will cease some operations at some point Monday night until 2 a.m. Tuesday at Reagan, Philadelphia, Washington Dulles and Baltimore-Washington international airports. That's when United officials plan to try to have flights departing for Asia take off from Dulles.
Southwest Airlines said in a statement Monday afternoon it proactively canceled 1,333 flights across the system through Wednesday due to the storm.
"I was nervous. I was watching the app and so I knew things were running on time and confirmed it after I got here," said Chicagoan Drew Katti, who is traveling to Kentucky.
With the snow storm hitting overnight, airlines began scrapping flight after flight. Lynne Mattefs from Palatine felt that frustration, getting one of the last three seats on a flight to Dallas.
"I found out on the way here that the flight was canceled. We got on another flight really quick and now not leaving until 9 o'clock," Mattefs said.
Other travelers dealt with ugly delays.
"I had an hour and a half delay then my company wanted me to change flights to get there a little bit sooner," said traveler Tom Emerson.
A group of girls from the University of Iowa are heading to Mexico were worried the weather would ruin the trip.
"Two of the girls couldn't sleep at all so they were checking probably every 30 mins to an hour two of us took some sleeping pills so we could actually get through the night because we were so anxious," said traveler Danielle Cook.
The girls did get out on time.
CLICK HERE for the latest 7-day outlook from the First Alert Weather Team: