CHICAGO (WLS) -- Strong storms moved through the Chicago area Wednesday night and much of the area is under Tornado Watch until midnight.
The tornado watch for Boone, Cook, DeKalb, DuPage, McHenry, Lake and Kane counties expires at 12 a.m.
The Chicago Department of Aviation said late Wednesday that nearly 100 flights had been canceled at O'Hare International Airport. ComEd said 32,000 customers are without power due to the storms, and the hardest hit area is Rockford. ComEd crews are at the scene trying to restore power.
Doppler 7 MAX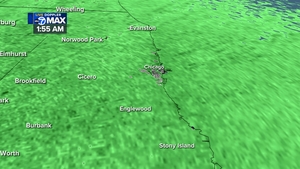 CLICK HERE to see the latest radar view from LIVE Doppler 7 MAX
ABC7 Meteorologist Larry Mowry said the primary severe weather risks risks are for hail, high winds and localized flooding.
Heavy rains and high winds were reported in western suburbs in the area of Genoa around 8:40 p.m., though they passed relatively quickly. Mowry and ABC7 Meteorologist Cheryl Scott said the strongest weather is at the leading edge of the storms.
Weather officials say most of eastern Iowa and northwest Illinois are at an "enhanced risk" for severe weather.
There is a very small chance of hail and the general pattern of the storms is not hail-producing but wind-producing, Mowry said.
The storms are moving east-southeast at about 40 miles per hour.
CLICK HERE for the latest 7-day outlook from the ABC7 Weather Team: