CHICAGO (WLS) --
Much of the Chicago area was under threat of thunderstorms Monday afternoon and night, and strong storms rolled through the south suburbs.
As of 9:40 p.m., 140 flights had been cancelled at O'Hare Airport with average delays of 35 minutes. At Midway, 48 flights had been cancelled with delays averaging 15 minutes.
The storm system was most severe to the south of the Chicago area, with reports of tornadoes in downstate Illinois and central Indiana. The severe weather is largely southwest of the city, moving east at about 30 miles per hour according to ABC7 Meteorologist Cheryl Scott, and weakening as it moves.
All the storms are expected overnight, and fog in the morning.
Doppler 7 MAX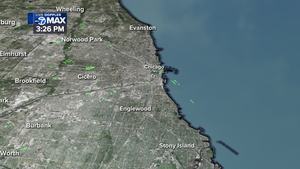 CLICK HERE to see the latest radar view from LIVE Doppler 7 MAX
The work week got off to a stormy start, with ominous clouds unleashing downpours and lightning filling the skies to a chorus of thunder.
In north suburban Long Grove, a house in a gated golf course community caught fire after apparently being struck by lightning. Chopper 7HD captured images of a hole bored into the roof. There were no reports of any injuries. Firefighters worked through the morning to put out hot spots.
Downpours caused flooding in some areas, mainly north of the city, including high standing water near Sunset and Northwestern avenues in Waukegan.
In Kenosha County in Wisconsin, a Flash Flood Warning was in effect until 7:15 a.m. Kenosha police warned drivers to avoid the 7400-block of 57th Avenue and the 2700-block of 83rd Street because of flood roadways.