CHICAGO (WLS) -- A woman was struck by lightning in the southwest suburbs as thunderstorms dumped heavy rain across the Chicago area Thursday.
Police said the 34-year-old woman was walking southbound in the 300-block of Janes Avenue in Bolingbrook around 2 p.m. when she was apparently struck by lightning.
"Her whole side of her face was burnt. Her blouse had a line in it that was burnt and almost disintegrated. She was gushing blood from her ear. I was like, she's gotta be dead. Gotta be dead. All of a sudden I saw one breath, and that was like 30 seconds after we got there," said Jim White, who helped the victim.
"I am shaking. I am shaking. My mind is upset," said Ali Shah, who helped the victim.
Neighbors performed CPR while on the phone with emergency dispatchers. Police said the Berwyn woman suffered severe burns.
She was transported to a local hospital in serious condition.
"I pray for the young lady. My god," Shah said.
FLASH FLOODING REPORTED ACROSS CITY, SUBURBS
ABC7 viewer Joe Davis shared a photo showing several inches of standing water in a Palatine parking lot Thursday afternoon. Flooding was also reported in nearby Schaumburg, where at least one car stalled while trying to drive through high water. The flooding has since receded and no one was injured, police said.
Minor flooding was also reported on Chicago's South Side and several south suburbs, including Darien and Calumet City.
The storms also caused problems at the city's airports. As of 6 p.m, more than 265 flights had been canceled at O'Hare and around 45 flights were canceled at Midway. Delays of more than two hours were reported at O'Hare.
As of 4:45 p.m., ComEd reported more than 1,000 customers were without power across Cook, DuPage and Will counties. ComEd officials said they were not sure if the outages were related to storms or heat.
SOUTH SHORE SERVICE SUSPENDED DUE TO WIRE DAMAGE
Commuters on the South Shore Line are being delayed by overhead wire damage near Hegewisch on Chicago's Southeast Side. Officials said trains in both directions are being held in their Chicago or Indiana locations until officials can assess the damage. Officials have not yet determined if the damage is storm-related. The Metra Electric Line said it will honor South Shore tickets.
All EB Trains will be held at Millennium Station due to overhead wire damage West of Hegewisch. Train 118 will be held at....(cont>)

— South Shore Line (@southshoreline) July 28, 2016
...(cont) Gary Metro & Train 20 will be held at South Bend. Length of delay is currently unknown. Updates to follow.

— South Shore Line (@southshoreline) July 28, 2016
STORMS THREAT PERSISTS THROUGH 8 PM
The Storm Prediction Center said Chicago and suburbs to the north, west and southwest of the city are under a "marginal" risk of severe weather this afternoon and evening. A "marginal" risk means that isolated severe storms are possible across the area.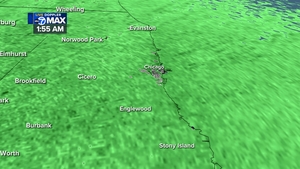 CLICK HERE to see the latest radar view from LIVE Doppler 7 MAX
Additionally, the National Weather Service said in a statement that the atmosphere is favorable for the development of funnel clouds over parts of northern Illinois, including Winnebago, Boone, McHenry, Ogle, Lee and DeKalb counties.
Any storms that develop could produce torrential downpours, frequent lightning and gusty winds, ABC7 meteorologist Cheryl Scott said.
The
opening of Lollapalooza was temporarily delayed
Thursday as storms passed through the downtown area around 11 a.m. The chance for rain is expected to wind down by 8 p.m., Scott said.
Watch the latest forecast from the First Alert Weather Team: