CHICAGO (WLS) --
Snow is expected to fall during the afternoon/evening commute on Tuesday. Drivers should reduce speed and keep a safe distance on the roads.
Several drivers were involved in spinouts during the morning rush. In Roselle, a driver struck a light pole near Park Street and Maple Avenue. On the inbound Edens Expressway near Willow Road, a car struck a wall. On outbound I-90 near Mannheim Road, several vehicles were involved in a crash.
The snow started coming down Monday night and continued into the early morning hours. Steady snowfall in La Porte, Indiana, covered the streets and sidewalk just before midnight. In Chicago, the ground was still warm and salt trucks were already on the street, so the snow only created some wet pavement.
Chicago's Department of Streets and Sanitation said their full fleet, nearly 200 snow plows and salt spreaders, is ready to tackle Lake Shore Drive, main roads and residential streets.
"This snow system is really going to linger throughout the day. That's why its so important for our crews to remain out on the streets," said Jen Martinez, Streets and Sanitation.
To view the snow fleet in real time visit
www.chicagoshovels.org
.
DOWNLOAD THE APP:
ABC7 Chicago Weather App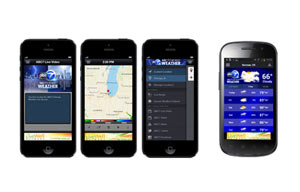 ABC7 Meteorologist Tracy Butler said the snow is expected to start falling again around 3:30 p.m. Tuesday. It will continue through the evening commute and wind down in the overnight hours. Butler predicts a total of 2 inches of total snowfall for Monday and Tuesday.
"This winter hasn't been as bad as last year, so I'm not going to complain too much. This time last year, we had almost two feet of snow," said Edric McNeary, a Chicagoan.
Tuesday will be blustery and cold with highs in the mid-20s and wind chills in the single digits. Butler said bitter cold is expected to return to the Chicago area Wednesday. Wind chills will be below zero Wednesday morning.
CLICK HERE for the latest 7-day outlook from the First Alert Weather Team:
It's a different story to the west. The National Weather Service said a Winter Weather Advisory will be in effect for La Porte County, Indiana, and Berrien County, Michigan, from 3 p.m. Tuesday to 10 a.m. Thursday.
The weather service said 6-12 inches of lake-effect snow is expected to fall during that period. The heaviest snowfall, around 1-2 inches per hour, is expected late Tuesday night through Wednesday afternoon. Visibility will be near zero at times. The weather service also warned drivers of blowing and drifting snow. Wind chills are expected to range between -5 and 5 degrees.